Days after 'dumping' Deputy President William Ruto's camp and offering his full support for Interior Cabinet Secretary Fred Matiang'i ahead of 2022, Kisii Deputy Governor Joash Maangi seems to be slowly crawling back to Ruto's camp after his recent stand on the BBI.
Speaking on Thursday evening during a political show at Switch TV, Maangi, who had initially declared his full support for the BBI, said Ruto's call for amendments was genuine and should not be ignored.
The former Ruto allied leader predicted doom for the report, saying it was going to fail should some issues not ironed out. He claimed that the MPs and the county ward reps were more likely to vote against the report, since it proposes that MPs and MCAs should have degree certificates to vie for any elective seat.
"I support Ruto's call for amendments that will lead to a non-contested referendum. This BBI will fall because of that clause requiring MPs and the MCAs to have degrees for them to vie for various seats. Many of them do not have degree certificates," stated Kisii Deputy Governor Maangi.
Maangi, while answering a question on whether the BBI was a two-people affair, stated that the report seemed to have been hijacked by Uhuru and Raila and it was now looking like a 2-people affair.
"At first, the report looked well but it has been hijacked by the two. Raila has pushed his own agendas with the Deputy President William Ruto begging and requesting for a consensus way. This is very unfortunate," stated Kisii Deputy Governor Maangi.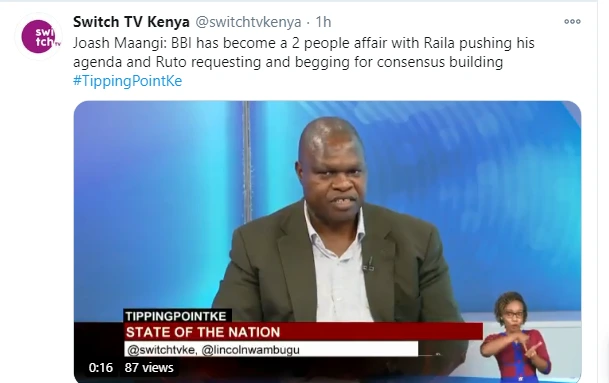 The Kisii Deputy Governor also took issues with Raila Odinga's hasty state of demanding for collection of signatures, saying he should wait first for the full BBI report to be published.
"People are signing referendum signatures for what? People are supposed to sign signatures once the bill has been published," added Kisii Deputy Governor Joash Maangi.
He claimed that most of Kenyans had not read the document and should be given more time for engagements as directed by the president for them to decide on whether to avail their signatures or not.
Kisii Deputy Governor claimed that most of the things proposed by Kenyans during views collection had been left out and the views of only 'two people' captured.