A girl who was allegedly defiled by her uncle, Patric Ayoyi has committed suicide by hanging herself.
Her body was found dangling from the roof of her rural home in Sabatia, Vihiga County. Police have confirmed the incident, saying the girl who heated the internet on Sunday for her bedroom prowess left behind a suicide note.
"Dear mum and dad, I am sorry I had to do this. I loved you very much. Life has become unbearable now that I am the evil talk of the country. I brought you shame when you expected the best from me.
I cannot live like this anymore" read the suicide note allegedly written by the deceased. Suicide note allegedly written by the deceased Religious leaders in the country has appealed to members of the public to desist from taking their own lives but rather seek help from parents or counselors when faced with life challenges.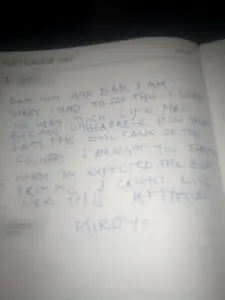 Her body has been taken to the morgue pending postmortem examination, police said.
According to the neighbors, The girl is said to be born in the early 2000s. The majority of social media claim that from the face and her body, she looked minor.
The lady looked young than the said age. She was working as a maid in Kakamega after finishing high school in 2018. She spent the better part of 2019 in Kakamega working before her bosses traveled.
That made her stay in his Aunties' house in Kericho as she looked for another opportunity.
What Do You Think About This Piece? One Favor Leave a Comments and Share Widely.