Today BBI report moved to the next step after successful progress by president Kenyatta and his brother Raila Odinga. The Duo of the two today officially BBI Signature Launch, collection of a million to enable it to move forward.
Today's BBI Signature Launch which was attended by high-profile officials, more than 30 governors, Mp, and other delegates are only a few stated to have attended the event.
However, eyebrows were raised about what could be the Dp's next move as his sit remain empty after he skipped today's event. The DP has broken his silence after snubbing today's event.
The second in command moved to his official Twitter account to tweet that there is still room for consensus and non contested referendum.
Ruto also said that even though the document is already launched, there is still room for consensus to avoid a situation where one Group loses while the other gains.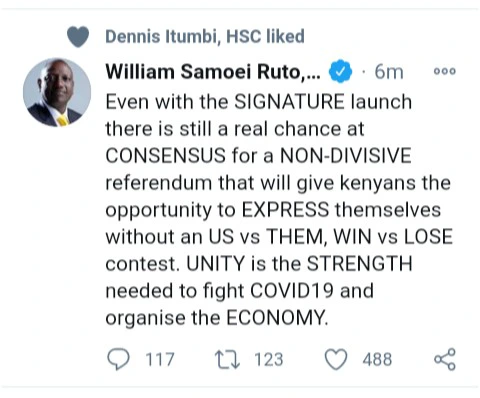 "Even with the SIGNATURE launch, there is still a real chance at CONSENSUS for a NON-DIVISIVE referendum that will give Kenyans the opportunity to EXPRESS themselves without the US vs THEM, WIN vs LOSE contest. UNITY is the STRENGTH needed to fight COVID19 and organize the ECONOMY," he tweeted.
We appreciate for trusting our site in all news, thanks much as you have promoted writters progress and success.Kindly share the article widely.