The dramatic arrest and ongoing prosecution of former Sports Cabinet Secretary Rashid Echesa and three others have attracted the interest of the international diplomatic community, Kenya News Day has been reliably informed.
Rashid Echesa and his three co-accused were yesterday charged with conspiracy to commit a felony by conspiring to make a document with intent to defraud.
The case which could potentially incriminate Deputy President William Ruto had elicited interest from far and wide, with the possibility of far-reaching ramifications for Kenya and the region.
According to the criminal complaint filed against the former CS Rashid Echesa and his co-accused, the charge sheet list six counts of making a false document in the Sh39.5 billion fake arms deal as well as obtaining Sh11.5 billion from Kozlowski Stanley Bruno, a top executive of the Eco Advanced Technologies, by purporting that they will award him with a Kenya government tender to supply military equipment.
The equipment in question has been rated as highly sophisticated and dangerous by security analysts. Not only would it be able to conduct a vast network of digital and physical espionage, but they would also be the able to filter, collect, and analyze staggering volumes of data flowing across the internet, and includes an advanced algorithmic surveillance system with facial and voice recognition.
In the wrong hands, such a system could be used to remotely alter government records, manipulate electioneering, exploit electronic banking or adjust tax records or conduct sabotage of untold proportions.
Sources told Kenyan News Day, US and EU diplomats were closely following and would be raising questions with Kenyan authorities on how civilians with questionable character were brokering a multi-billion deal involving sophisticated military gear.
Such deals are usually done at high level government to government contracting and not with civilians merely providing in-country logistical support.
Diplomats are particularly worried that the import was being facilitated using a forged but seemingly sealed and signed Kenya Defence Forces (KDF) end-use-certificate (EUC). Yesterday, the State Department for Defence, after maintaining a studious silence on the unfolding case, expressly denied its involvement in the deal.
Kenyan News Day understands that an EUC is valid once it has been been verfied officially endorsed by relevant government officials or highest diplomatic official in the country of origin.
Kenyan News Day was unable to confirm if Echesa's fictitious EUC had been endorsed by Kenyan diplomats in Poland or Washington.
Unknown to Rashid Echesa and his co-accused, they have been on the radar of Kenyan and US authorities for several months.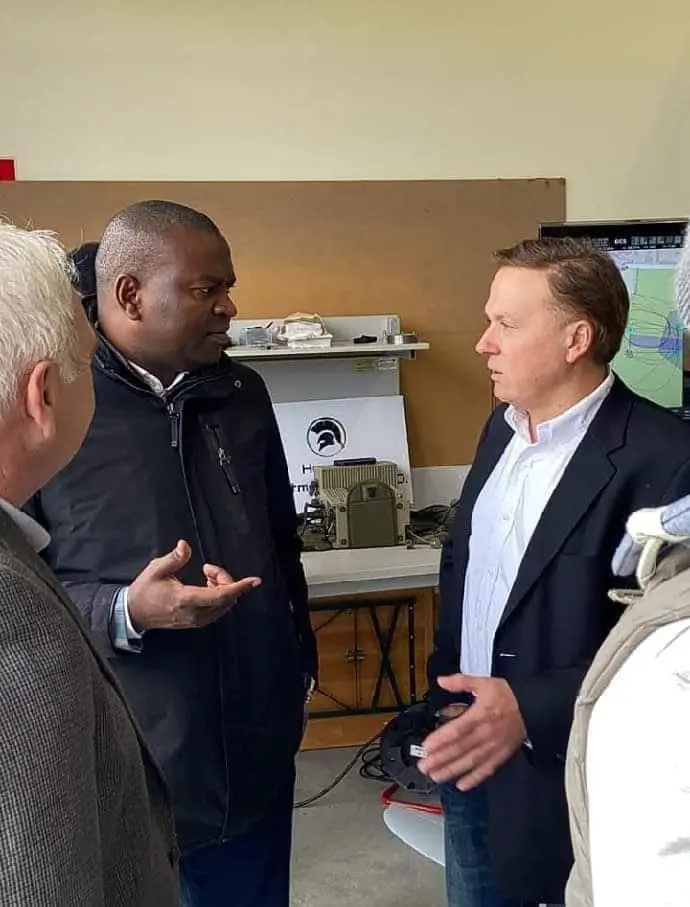 The American Federal Bureau of Investigation agents based in Nairobi were reportedly keenly following the case which has led to suspicion that the equipment, a high advanced integrated communication and security surveillance equipment, that includes unmanned aerial vehicles, was intended to eavesdrop on regional intelligence community.
Other sources intimated to Kenyan News Day that Rashid Echesa, who is widely believed to be front of powerful political leaders in Kenya, were using Kenya as conduit for brokering illicit arms to aid themselves and facilitate groups that are planning to execute a coup d'état in one of the regional countries.
The case drew specific interest following confirmed reports of Kenyan officials engaging in cross border contraband trading and illicit arms transfer especially between lawless Somalia and Southern Sudan.
Echesa's case is reminiscent of another similar one in September 2008 when band of Somali pirates made a shocking discovery inside a Ukrainian ship they had just hijacked in the Gulf of Aden. The MV Faina was found packed with sophisticated weapons, including 32 Soviet-era battle tanks.
According to several secret US State Department cables made public by WikiLeaks, the tanks not only were headed to Southern Sudan, then under UN sanctions, but they were the latest installment of several underground arms shipments made by unscrupulous Kenyan businessmen working with senior government officials to using an EUC fraudulently obtained undet the official KDF seal.
By the time the freighter was seized by the pirates, up to 67 T-72 tanks and an unknown number of rocket launchers had already been delivered to Juba to bolster Southern Sudan's armed forces against the government in Khartoum, then an international pariah for its human rights abuses in Darfur.
A source at Ulinzi House (KDF Headquarters) told NAIROBIminiBLOGGERS that the documentation seized by sleuths in Echesa's car was not issued by the KDF, a development that has raised serious questions touching on national and regional security.
In a statement on Monday the State Department for Defense explicitly denied existence of such a deal and said none of its officers had met nor negotiated with Echesa or officials of Eco Advanced Technologies.
Although Echesa Former Sports CS Rashid Echesa and three others denied fraud charges, they were released on Sh3 million bond with surety of similar amount or Sh1M cash bail.
On his part, a spokesman for DP Ruto was at pains to disassociate the Office of the Deputy President from Echesa. All evidence suggests that Ruto knew about the fraud as it happened and his office was used to dupe the Americans.
Officers from Kenyan National Intelligence Service were understandably gathering more information on Echesa, including examining evidence that Echesa was used by persons not before the court to procure equipment for building a parallel intelligence system in order to circumvent state surveillance.
Security experts in the great lakes region have severally accused Kenya of allowing gunrunners to operate from within its territory and engage in illegal arms transfer that have wrecked havoc in the region.
DCI detectives have over the last few days conducted extensive searches in the houses of Echesa, his co-accused, and the Office of the Deputy President based at Harambee House Annexe. According to DCI sources, several documents, handguns, and satellite phones were seized from Echesa's upmarket Nairobi home.
DCI sleuths were also surveying hours of CCTV recording to establish how Defence PS Monica Juma's signature and official stamp were forged, and which military generals aided and abetted Echesa's criminal activities.
Investigators believe Echesa is a pawn in a major arms-dealing, extortion and money laundering transnational organized crime cartel that could be operating in several regional countries.
Interpol Secretary-General for East Africa, Jean-François Gadeceu has said his organization flagged Kenya as a flashpoint for terrorism, money laundering, carjacking, drug and human trafficking, smuggling of weapons, poaching and piracy due to involvement of high ranking government politicians eager to raise money for political campaigns. Echesa has in the past been implicated in a human trafficking case.
Although the police had sought to detain the suspects for twenty-one days, arguing that the three were likely to destroy evidence, mostly documents in their possession, Senior Principal Magistrate Kennedy Cheruiyot granted them bail and set a mention and pre-trial date of 3rd of March.
What Do You Think About This Piece? One Favor Leave a Comments and Share Widely.