Activist Boniface Mwangi has revealed what ODM leader and the former Prime Minister lacked that would have made him the country's president after what his aide said.
Mwangi told Silas Jakakimba that Odinga if he had more than one vote then he would be the president and not Uhuru's sidekick.
This is after Jakakimba said that Odinga was constant in the previous elections as he played a role in Kanu losing and former President Mwai Kibaki losing the election.
"1. KANU lost in 2002. 2. Kibaki lost both a referendum in 2005 and the elections that followed in 2007. 3. Needless to say, at the political captainship level, RAILA factor was the constant in those three occasions," said Jakakimba.
Mwangi however told Jakakimba that former Prime Minister as a person only has one vote and if he had many votes then he would have won the election.
The activist further said that the former Prime Minister is expecting President Uhuru's support since he wants his vote that will help him achieve his goal of clinching the country's top seat and not rely on his vote alone.
"RAILA has one vote @silasjakakimba. If he had more than one vote, he would be Kenya's president by now not Uhuru Kenyatta's sidekick. Truth be told Raila sold out. He expects Uhuru to make him president since his one vote doesn't guarantee Raila to win 2022," said Mwangi.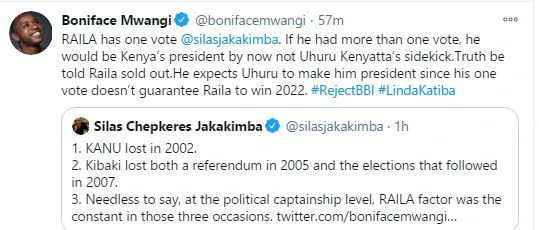 After the handshake between the former Prime Minister and Uhuru, there have been claims that the President will work with Raila come 2022 and dump Deputy President William Ruto.
Raila has however dismissed talks of being in the presidential race saying that it is too early to start talking about 2022 politics when there is still work that needs to be done.