The court has said that the Bill initiative did not rely on the constitution procedure but they relied mainly on their own making decision. 
The court also has found that the BBI committee which orchestrated the whole process was unconstitutional in a manner that the whole process was taken as people-driven which contravened the Kenyan constitution.
The court also found that the bill cannot delimit the boundaries of the regions as stated in the new bill,
Also, the ruling hinted that the IEBC commission did not have the quorum required as per the Kenyan constitution to hold the whole process, according to the Kenyan constitution IEBC requires a quorum of five acting head officials.
In the report, the matter of publicizing and educating the public was done by the media hence the court found it unlawful for the media to be given the only responsibility to popularize the Bill.
Thee court found that the BBI authenticate the validity of the signatures collected in a good verifiable process by using different measures to identify the signatures.
It has been hinted that the BBI or just straight us will go to court of appeal to appeal on the issued judgment.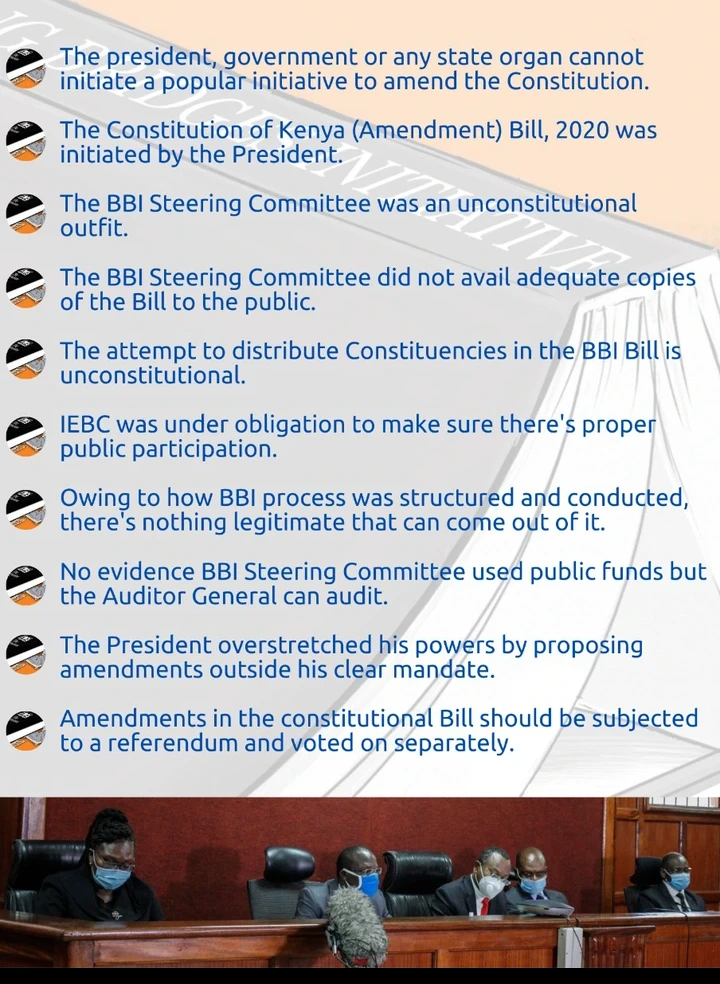 After a long hearing of the BBI bill case to find the final ruling which was presented in the High Court by different activists and other respondents, the court has come to an unexpected ruling that finalizes that the process did not follow the required procedure as per the requirement of the law when the bill was being launched and a whole process went against the constitution.
The judgment also has hinted that Uhuru Kenyatta went against the law and He faces being sued in the court of law for going against the constitution which He promised to protect during his inauguration.
The court has found the BBI bill was declared null and void and the whole process was unlawful.
What Do You Think About This Piece? One Favor Leave a Comments and Share Widely.