Many of those who have passed through the 8-4-4 education system will remember many of the books written by Ken Walibora, in which they were examined especially in the Kiswahili literature.
Kenyans were today served with news that the greatest Swahili author of all time Ken Walibora is dead.
Rumors started streaming in on social media platforms indicating that the guru lost his life following a road accident in the US.
Ken Walibora, who is a writer and journalist, is known for his Swahili pieces with over 40 titles under his name.
Dr. Walibora is popularly identified with his most famous book with include, Siku Njema, Naskia Sauti Ya Mama, and Kidagaa Kimemwozea, which have previously been used as set books in secondary school education in Kenya.
Immediately after the rumors started streaming, social media users started recounting Walibora's contribution to building the Kiswahili language in the country.
Ken Walibora RIP Messages
"Siku Njema Kangeuka Giza Totoro, Ken Walibora, the legendary Swahili writer and journalist dies in a road crash. More details to come soon. Kenya and the world has lost a gem. Peace be upon the family," Mkenya_Bingwa posted on twitter.
"There's a legend at rest. A hero and a role model is gone too soon. You shall not be forgotten Ken Walibora, our Kenya Shakespeare, you made my Kiswahili lessons worth it. Rest in peace Ken Walibora," Wairimu Wanjiru posted.
"You might be gone too soon, Ken Walibora, but your books your messages your idea will still be with, and we will share with others for generations, baba, you brought your taste differently," Azziad Nasenya posted.
It is, however, turning out to be not true that Ken is dead with no mainstream media mentioning the news and his family members not yet out to speak about it.
Ken Walibora Biography
Many of those who have passed through the 8-4-4 education system will remember many of the books written by Ken Walibora, in which they were examined especially in the Kiswahili literature.
Ken Walibora Waliaula was born on 6th January, 1964 at his parents' native home in Baraki, Bungoma. His family later moved to Kitale and later Cherangany.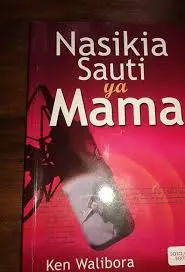 In his autobiography, Nasikia Sauti ya Mama, Walibora says that traditionally, a crying child would be given various names but the name that stops his cries becomes his name and therefore for him, the two names that stopped the crying and left him smiling were Atanasi and Waliaula.
In an interview with Daily Nation, Walibora revealed that he is the last born in a family where his father was a school headmaster, and he says his mother, Ruth Nasambu Makali played a larger than life role in shaping his creativity, a fact that in later years would make him one of the most well-known Kenyan writers, not just in the Kiswahili language but also in any language for that matter.
Having published more that 40 books, Walibora is one of the most prolific Kenyan authors, alongside the likes of Wallah Bin Wallah.
Some of the most famous books are Siku Njema and Ndoto ya Amerika, which saw him win the Jomo Kenyatta Prize for Literature for novella in 2003. His other book, Kisasi Hapana also won him the award in 2009.
Siku Njema was a secondary school set book between 1997 and 2003 while his other, Kidagaa Kimemwozea was also a set book from 2013.
Siku Njema seems to be the best of all, according to him, as in his profile on Facebook account, he posted that that's how he is referred by people.
"My first book Siku Njema (1996) has become my indelible identity. I am variously referred to as Ken Walibora Waliaula the Siku Njema Author, the author of Siku Njema or acclaimed author of Siku Njema. Everything else may be right except 'acclaimed' " he says.
Walibora worked as a High School English and Swahili teacher in Kenya between 1985-1986, thereafter worked as a probation officer in the Ministry of Home affairs between 1988- 1996.
From 1996-1999, he was a Swahili radio news anchor, news editor, and translator with the government owned Kenya Broadcasting Corporation (KBC), before joining Nation Media Group as a Swahili TV and radio news anchor up to 2004, although he also later rejoined the company as a Quality Manager, Kiswahili.
He later became a graduate teaching associate at The Ohio State University in USA, where he holds a Ph.D. in Comparative Cultural Studies, before serving as an Assistant Professor of African Languages and Literature at the University of Wisconsin-Madison, USA.
His research interests have covered culture,memory,trauma,world literature, postcolonial literature, Anglophone African continental and diasporic literatures,and Swahiliphone literature.
According to his CV, he has published a number of book and articles in academic journals including Research in African Literatures, Journal of the Association of African Literature(JALA), Journal of African Language Teachers Association(JALTA) and Masculinity in African Cultural and Literary Texts.
Would you like to get published on this Popular Blog? You can now email Admin any breaking news, your Bio, articles or advertise with us on:
[email protected]
What Do You Think About This Piece? One Favor Leave a Comments and Share Widely.