Kenya is currently in an ongoing vicious fight with the COVID-19 pandemic that is currently ravaging the economy mercilessly, grounding various important sectors of life in the process.
However as this happens, the government has been accused of deploying a relaxed position and being deaf on the plight of healthcare workers who continue to bear the brunt of the virus. Medics complain of lack of PPEs, insurance and delayed/ poor salaries.
Ona hii Ng'ombe! Idiocy of the highest degree. #BBINonsense
However, amidst this situation, ODM Party leader Raila Odinga emerged yesterday with controversial remarks telling off the doctors concerning their strike saying it is not the right time to raise their grievances.
"Doctors need to be more understanding. We are in a crisis at the moment, people are dying. It is not only doctors who are dying…," His remarks read.
And now, Nakuru County senator Susan Kihika has emerged to react to the remarks by the ODM leader which were made at around the same time as the death of Kenyan doctor Dr. Stephen Mogusu who succumbed due to COVID-19 yesterday.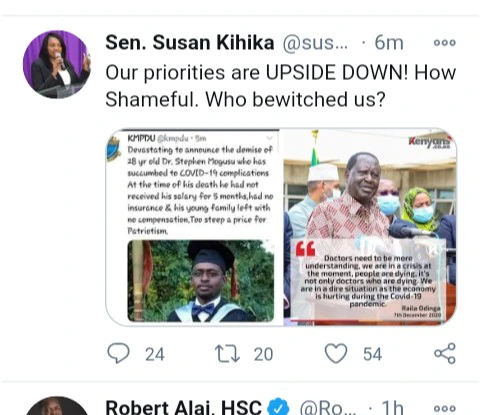 Kihika says that it is so shameful for what is happening even asking a rhetoric question to the effect that who Bewitched the Kenyan society over its misplaced priorities!
"Our priorities are upside down. How shameful. Who Bewitched us?," Senator Susan Kihika asked.