The tension between President Uhuru Kenyatta and Deputy President William Ruto seems to be escalating very fast as TangaTanga allies go below the belt in attacking President Uhuru Kenyatta.
In a viral clip that went around on social media yesterday, MP Johan Ng'eno criticized the first family using harsh words that would likely have angered President Uhuru Kenyatta.
As if that is enough, came the vocal Oscar Sudi. reminding President Uhuru Kenyatta of how the Kalenjin community is angry at him and even going as far as threatening him that he may face arrest once he lives office.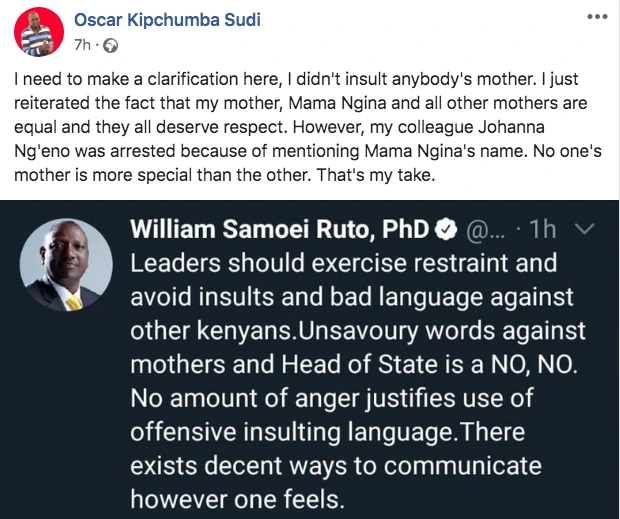 "I want to tell Uhuru Kenyatta that we are bitter with him, we voted for him but now he is treating Deputy President William Ruto with contempt. He should know that he can also sleep in jail one day," said Oscar Sudi.
Adding the salt to the wound, the vocal MP yet again mentioned President Uhuru Kenyatta's mother in a very circuitous manner.
Despite Deputy President William Ruto reprimanding him, he stated that no one's mother is special than others.
"However, my colleague Johanna Ng'eno was arrested because of mentioning Mama Ngina's name. No one's mother is more special than the other. That's my take." responded Sudi to DP Ruto's warning.
Kenyans Reaction on Sudi's, DP Ruto Duel
Frank Kenneth Nyakinye My friend you are learned but respect is paramount supposed it was your Mother, will you take it to ease? No Mama Ngina deserved respect and according to her position within the country, she should bê respected remember when you talk there is no spare part for life.
Kibet Edwin Chilidomo I don't understand why people are soo bitter with Sudi. This man has a point, his only problem is the choice of words!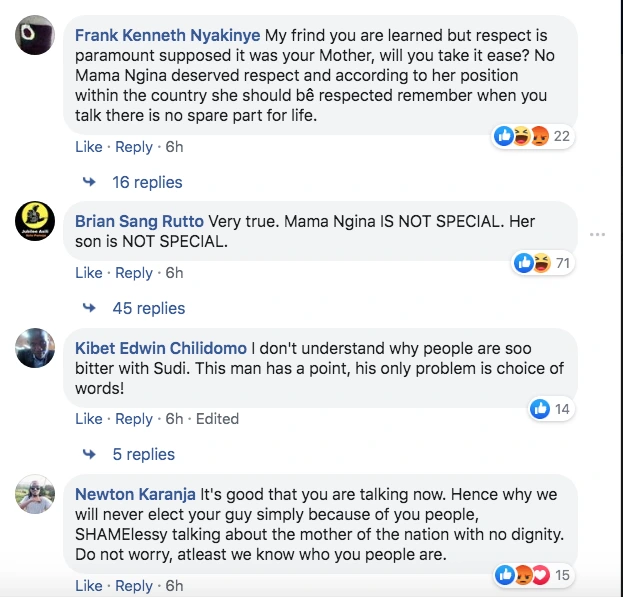 Haron Lagat Maraswa You said what is it n every Kenyan mind .. someone ought to be courageous enough to say and I'm glad you do speak for many of them.
Hon Micah Rutto Absolutely true, Uhuru is a Product of the same process as Sudi and everybody,mamake isn't special than all other mothers, Kenya Sio Mali yake!!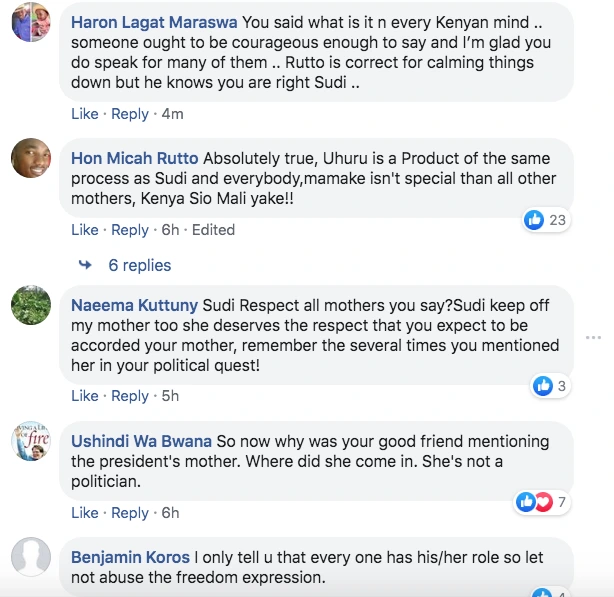 Naeema Kuttuny Sudi Respect all mothers you say? Sudi keep off my mother too she deserves the respect that you expect to be accorded your mother, remember the several times you mentioned her in your political quest!
Trevor Trevor But everyone's mother is more special to them than any other mother mheshimiwa. Don't include mothers in public spats, these are special people who do not deserve unnecessary negative publicity.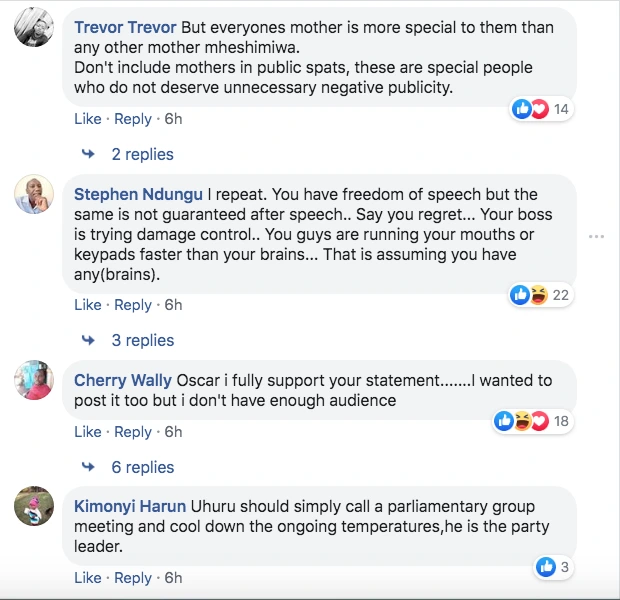 Stephen Ndungu I repeat. You have freedom of speech but the same is not guaranteed after the speech. Say you regret. Your boss is trying damage control
Thuranira Mutia Other masters should follow the footsteps and also tame their barking dogs, Mothers (including Mamake Oscar Sudi) should be respected no matter the political temperatures.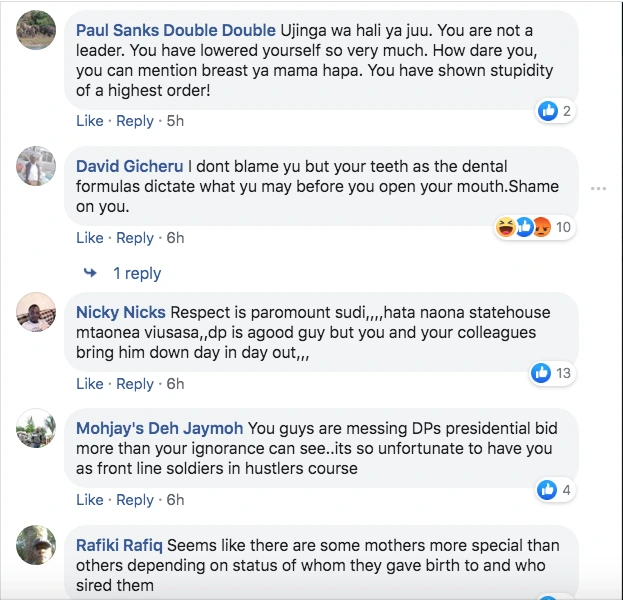 Paul Sanks Double Double Ujinga wa hali ya juu. You are not a leader. You have lowered yourself so very much. How dare you, you can mention breast ya mama hapa. You have shown stupidity of the highest order!