Deputy President William Ruto had a busy day on Thursday, starting his day with a radio interview at Radio Jambo and later an exclusive interview with Jalang'o Tv in the afternoon.
But it is a moment that the host Jalang'o asked the DP whether he is still in the Jubilee party or UDA and whether he is working on a coalition with Raila Odinga, which got the DP laughing and humorously answering Jalang'o.
The DP read malice in Jalango's question, asking whether he had been sent by Raila to him, adding that whoever sent him, should pay him for the big task.
"Kwani Baba amekutuma Jalang'o…Naona umetumwa kweli, na huyo amekutuma, lazima akulipe (Has Raila sent you to me? I really see you have been sent and you should be paid for this)" stated Ruto amid laughter from the two.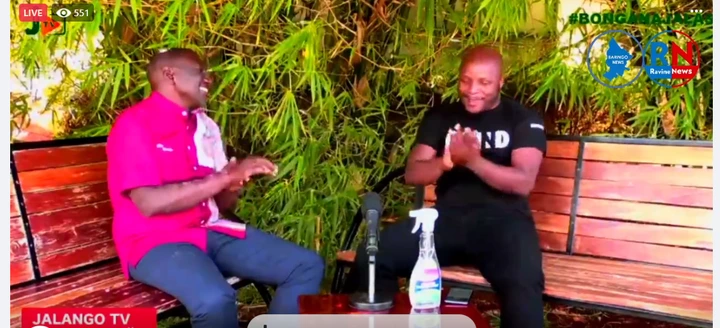 On whether he is planning to ditch Jubilee party for UDA, the DP said he is still considering options, adding that after roll, UDA and Jubilee parties are two in one under the bigger Jubilee.
He however, accused a section of leaders inside the ruling party, whom he blamed of hijacking the party and making it look like a tribal party which belongs to certain individuals.
He said he is ready to work with parties which has national outlooks, and that out of all the parties in place, Raila Odinga's ODM is the only party which they can sit down and discuss a coalition.
"I have worked with Mudavadi, Kalonzo, Uhuru, and all the others before. The Cerelax coalition cannot form a national party, because, in their minds, they are tribal leaders. I can only work with any leader who is advocating for hustlers, unity among Kenyans, and working for the whole nation…at the moment, out of all of them, I can only sit down with Raila" stated Ruto.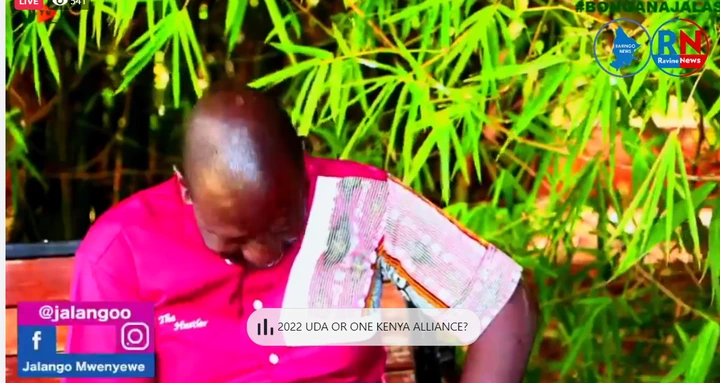 However, there was uncontrolled laughter after comedian Jalang'o, on a lighter note, told Ruto he had been advised against his tactics, saying the DP was more likely to interview him instead if he doesn't take care.
The DP laughed off his sentiments, saying those were 'Kamati ya Roho Chafu' who doesn't want to see a hustler interviewing a fellow hustler.
Here is the link to the video of the whole interview
Would you like to get published on this Popular Blog? You can now email Admin any breaking news, your Bio, articles or advertise with us on:
[email protected]
What Do You Think About This Piece? One Favor Leave a Comments and Share Widely.