A civilian hurls a teargas canister at anti-riot police.
Kakamega town was the scene of a bizarre turn of events on Saturday, April 4, as residents hurled teargas canisters at police officers.
This was in defiance to the nationwide dusk-to-dawn curfew aimed at curbing the spread of Covid-19. 
According to the report by K24 TV, Maraba and Sichirayi were identified by Township Sub-location Assistant Chief Isaac Ayumba as the areas where police were attacked by youth armed with teargas canisters.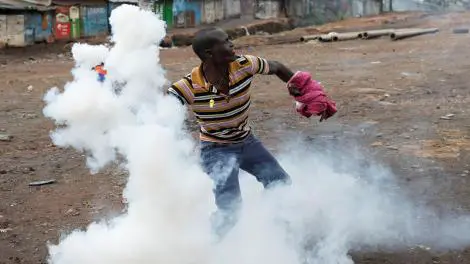 File
Kakamega Sub-County Police Commander David Kabena has since issued a warning to the area residents to surrender their teargas arsenal.
He further announced that his officers would launch a crackdown if all canisters in the possession of civilians were not surrendered to authorities.
Reports further revealed that the canisters found their way into the hands of the locals, after failing to go off once they were fired by anti-riot officers, only to be stored as part of civilian arsenal.
The mandatory dusk-to-dawn curfew has seen the police service placed under heavy scrutiny, with countless cases of police brutality grabbing the headlines.
On Saturday, April 4, Zacharia Lubale, a deaf man in Kakamega had his skull cracked open following an alleged beating by police officers during curfew enforcement.
Lubale was then rushed to St Mary's Hospital where he was admitted for emergency treatment.
Speaking during an interview on TV47, residents expressed their anger at the brutality meted by the police, going on to demand that justice be served.
Kakamega County Police Commander Bernard Muli went on the record to announce that the officers involved in the act would be dismissed immediately.
"Whoever is found guilty of the act will have no place in our police force," he stated.
On April 1, President Uhuru Kenyatta in a live televised statement apologized to Kenyans over the incidents of police brutality reported across the country. 
What Do You Think About This Piece? One Favor Leave a Comments and Share Widely.