The public service Commission in conjunction with the ministry of health has announced the following vacancies for a contract of 3 years.
500 posts of registered clinical officer.
The job candidate must have,
– Diploma in Clinical medicine and surgery or clinical medicine and community health from a recognized institution
Duties and responsibilities will be,
Referring patients and clients to appropriate health facilities.
Collecting and compiling clinical data.
Carrying out minor surgical Procedures as per training and skill.
Sensitizing patient's and clients ' on preventive and promotive health.
Guiding and counseling patients, clients, and staff on health issues.
Implementing community health care activities in liaison with other health workers.
Taking history, examining, diagnosing, and treating patients' common ailments at an outpatient or inpatient health facility.
I have just highlighted the duties of the enrolled clinical officer but as you go through the advertised Jobs, More vacancies are available as Register nurse 2000 posts available, 200 posts for Pharmaceutical Technologists, Medical laboratory Technologists 200 posts, Enrolled nurse 500 posts and community health assistant 1500 posts. Wish you well as you apply.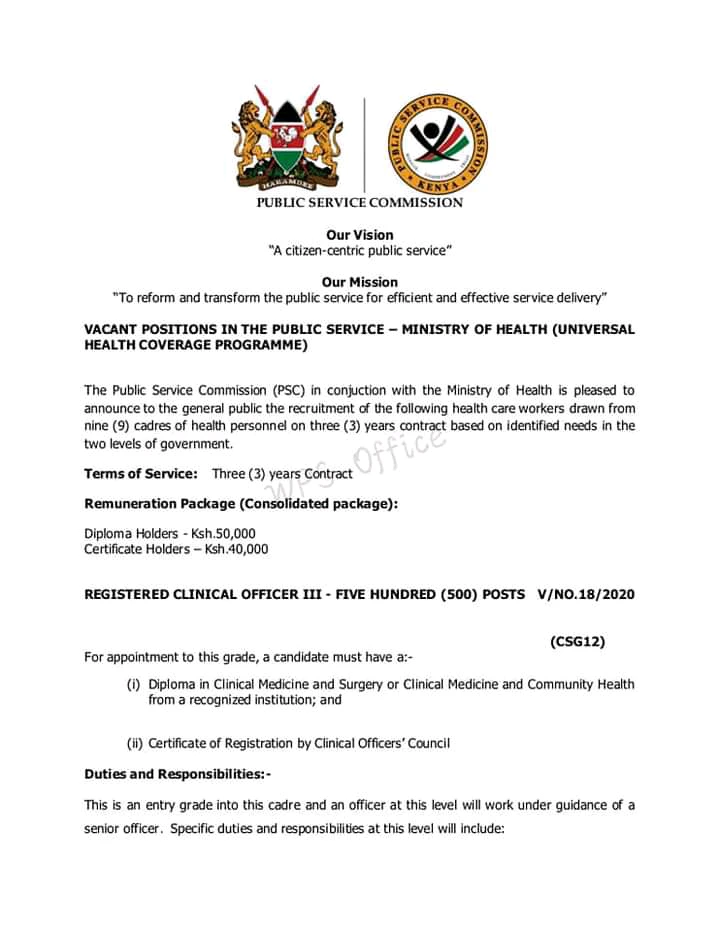 What Do You Think About This Piece? One Favor Leave a Comments and Share Widely.