Police Officer: For those lucky to have been tasted the era of former President the Late Mzee Daniel Moi, you would know the story of a man who was respected and highly feared due to his sometimes extreme way of handling issues.
With such a man, to think that anyone would raise a finger at him, leave alone slapping him, is quite unfathomable and unbelievable.
However, for one James Erastus Mungai, he can just be described as a man who was drunk with power, and who thought he could always have his way.
The man is famed for having slapped Moi, not once, but twice. This happened during the days of the country's founding father Mzee Jomo Kenyatta.
During this time, Mungai was a Police Commandant in charge of the Rift Valley Province at a time when Kenyatta's inner circle comprised of the notorious Kiambu mafia.
In Moi's biography titled Moi: The Making of An African Statesman authored by Andrew Morton, the writer stated that Mungai, on two occasions, slapped Moi at State House in front of Kenyatta.
This incident angered Moi so much that he directly complained to his boss, the head of state whose answer and way of handling the issue left the vice president more humiliated.
As the vice president, Moi was the Minister of Home Affairs under which the police department lay as such, Kenyatta simply asked the powerless Moi, "Who is the minister in charge of the police?"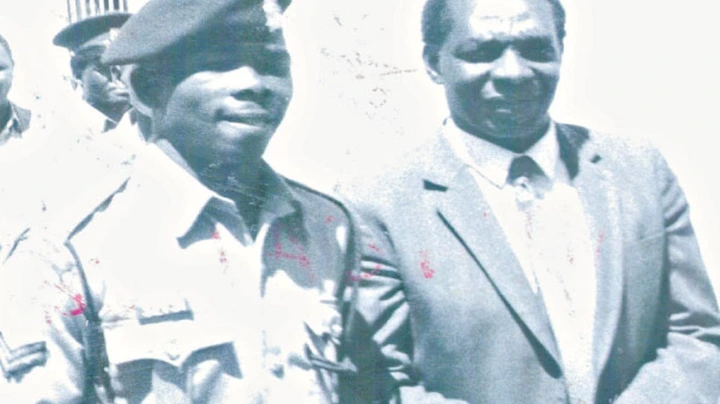 During those days, Moi is said to have hang on his seat on a thread and was always afraid that the powerful political mafia would assassinate him to prevent him from taking over power since Kenyatta was aging fast.
"Moi was a very scared man. Each night he prayed, knowing that he could be assassinated any time. Even so, he was troubled as he was holding on to his job by the skin of his teeth," the book by Morton states.
In yet another incident involving Moi and the notorious Mungai, the police commandant is said to have strip-searched the vice president accusing him of bringing guns into the country while returning from an OAU meeting in Uganda.
The commandant was so brutal that he used to ride along the streets of Nakuru town on a horse and would whip anyone who refused to give him way.
Mungai was unceremoniously fired from the police service after Moi ascended to power.