Kapseret MP Oscar Sudi has waded into the debate revolving around a man with a striking resemblance to President Uhuru Kenyatta.
The picture of the man said to be living in Umoja Area Nairobi has taken the internet by storm with a majority of Kenyans saying that indeed the man might be from the lineage of President Uhuru.
According to Sudi, the man identified as Michael Njogo, must have been sired by a family member of President Uhuru and he went father to challenge the first family to identify his father.
Sudi has called on Uhuru to empower the man economically saying their resemblance is undeniable.
"Michael Njogo Gitonga is a 46-year-old man with a striking resemblance with President Uhuru Kenyatta. Someone within the Kenyatta family must have sired this man.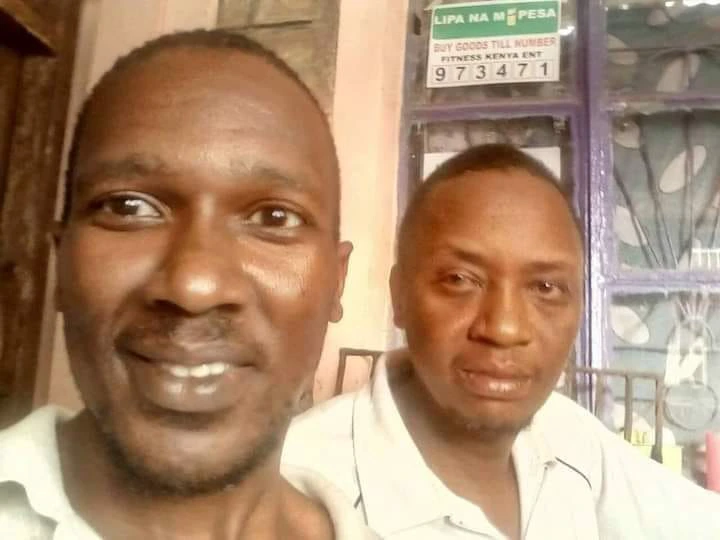 "The family should, therefore, identify his father as soon as possible. As a leader of a country, Uhuru should take up the responsibility and support this man since the family is blessed with vast wealth. Huwezi kataa kumsaidia mtu mnafanana naye kiasi hii," said Sudi.
Njogo has set the internet ablaze with his resemblance to the President leaving Kenyans in awe as others demand a DNA test to confirm his paternity.
Unconfirmed reports indicating that his mother worked at President Uhuru's Gatundu home sometimes back fuelled the speculation making others to conclude something could have happened behind the scenes.
Here is How Kenyans reacted to Oscar Sudi's post:
Which kind of responsibility should president take, don't behave with this man, until you will hear that he has won a ward, like githeri man who did nothing to Kenyans
Which kind of responsibility should President take. That day you'll stop reasoning with your MOUTH please. You're a leader & there are things you ought not get involved in
Mheshimiwa you are elected in parliament to speak on behalf of Your constituents, but I heard you have never spoken, is this the kind of speeches you would be giving if given the chance?
I knew you must say something.So politicians must be prepared to uplift their look alikes
"Family is blessed with vast wealth ", is laughable…. Grabbed resources can NEVER be referred to as blessings… Those are stolen/grabbed resources from poor Kenyans…
Are things happening to you that you can't explain? Well maybe someone put a hex on you? Do you feel you are stuck in the wilderness in a situation that appears hopeless? Do you have many enemies some enemies you are not even aware of? Are you having many obstacles in your life? Is your love life falling apart? Is your life facing financial ruin? Call Doctor Mugwenu on +25474063724 website www.mugwenudoctors.com