Orange Democratic Movement (ODM) Director of Communications Philip Etale has vowed to gift anyone who will return his laptop a whooping Ksh. 50,000.
On Friday last week, Etale came out through his social media accounts to report that uknown people had broken into his car and stole his phone, laptop and other valuables.
"Kinoo people have broken into my car as I condoled with a family that is bereaved and taken away my phones, laptop and other belongings. I feel bad. So sad," he said.
He reported this cases at Kinoo Police Station. So far, the police have received some of his items.
However, Etale now claims that his laptop contains a lot of his things has not been recovered dispite the laptop bag being found.
Other items that are still missing apart from the laptop include his phone, ID and Driving Licence.
Etale has now pleaded with residents to return his laptop and in return he will gift whoever will return it a good amount.
"Fellow Kenyans, this is a personal commitment. Anyone who will offer to return my lost Laptop, I will give him/her Ksh. 50,000 in cash. I promise from my heart," said Philip Etale.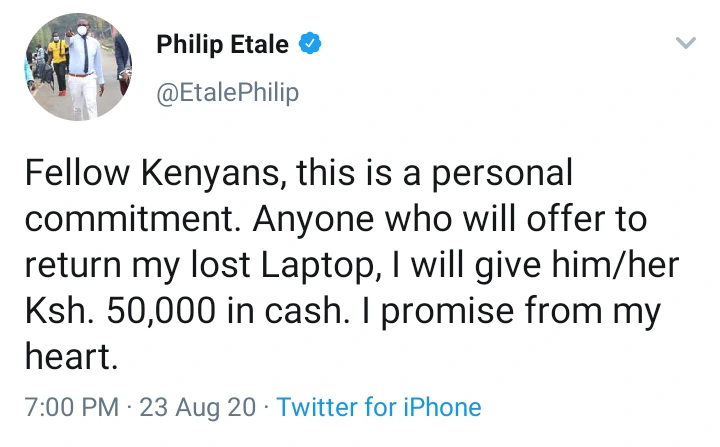 Despite promising to gift whoever will return the laptop, no one will dare return it. This is because whoever stole it could have sold it already and the laptop formatted or even dismantled.
Kenyans on Twitter (KoT) have advised Etale to forget about his laptop, phone, ID, and driving license since no one ever gets such things when they are stolen especially in Nairobi.