The shadowy face of mysterious Nairobi Cartels operating in different fields, in cohort with top government officials, has given rise to kwani utado attitude that has resulted in rampant corruption within Nairobi County.
The rise in corruption has resulted to a wide thread of cartels who are interlinked in derailing the service delivery where they have mastered how to milk billions annually from hawkers, matatu operators, as well as, waste collectors.
A source who sought anonymity told NairobiminiBloggers that the cartels are mostly top government officials who are untouchable and have structures to ensure the free flow of information, as well as, operations.
He said that the same cartels that are in the matatu industry are the same that regulate the hawking business in Nairobi and manage waste dumping at Dandora.
The source added that rogue traffic police officers and county askaris, illegal gangs and route cartels make the deepest cuts into the PSVs' revenues, with each group collecting at least Sh200 from the 120,000 matatus daily.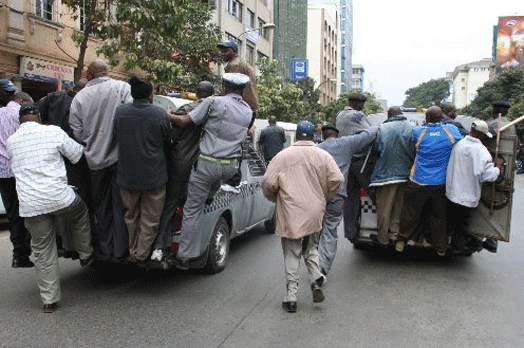 He revealed that some askaris are in the hawking business and they use operatives and they rarely attack areas that they have invested.
"If the askaris want to lessen competition in zones of their interest, they execute cruelty. Equally, when we want to push away the competition, we hire their services," says a trader.
Former Karura MCA Kamau Thuo had earlier requested the Nairobi County Assembly to form an ad hoc committee to discuss the killing and mistreatment of hawkers through a bill dubbed City Inspectorate Service Bill that aimed at "taming and sanitizing the askaris" operations.
Margaret Wanyundo, a trader said, "Kuna hawkers wa Moi Avenue, River Road, Tom Mboya, Ronald Ngala and Muthurwa and each has its designated leader who collects money and reports to top managers.
She further stated the structure in the hawking kingdom operates just like an office where there are managers, legal office, secretary, messagers and informers who are paid monthly.
"Hawkers pay money to the "office" and secretaries always follow them to collect money every day, each is expected to pay a minimum of Ksh 100 and there are zoning with separates managers, and for you to join hawking, you must be introduced and pay, failure to which you might even be killed or your goods confiscated," she noted.
According to the trader, the legal department within the hawkers Kingdom is solely to negotiate terms and conditions with top officials within the county who are highly ranked by the cartels.
According to a report from the Ministry of Trade, there are approximately 250,000 vendors who sell retail and essential goods on pavements in Nairobi without licenses.
The report revealed that extortion takes a major toll on their livelihood. Despite trading for more than 12 hours a day, most hawkers and their families live hand to mouth.
The same hawking kingdom is a replica of the matatu industry where top cartels in the ministry secure parking spaces and sell them to the highest bidders.
Recently, Nairobi Metropolitan Services (NMS) Director-General Mohammed Badi had issued a warning to Matatus operating within the CBD.
Currently, NMS is constructing new bus termini to decongest the city after public cry and harassment.
A recent report by the ministry indicated that Kenya's public transport industry loses at least Ksh 47 billion annually to a network of cartels who include organized criminal gangs, rogue traffic police officers, county askaris and touts.
Those PSV operators who fail to comply with their demands are mostly killed, pushed out of business or forced off the lucrative routes such as Buru Buru, Thika road and Ngong road.
"The cartels collect an amount of money commensurate to the bus fare charged by the Matatu at that stage when it picks up passengers at any particular moment during the day, they determine the fares especially during peak hours and they act as an eye, "said one matatu owner who requested anonymity.
She further asserted that cartels further deter Matatus from plying routes they aren't designated to, for example, a Jogoo Road designated Matatu cannot just use Mombasa Road to pick passengers without parting with some money.
A reliable source claimed that a top manager in the Kingdom might either be an elective seat holder as he further controls the Dandora dumpsite.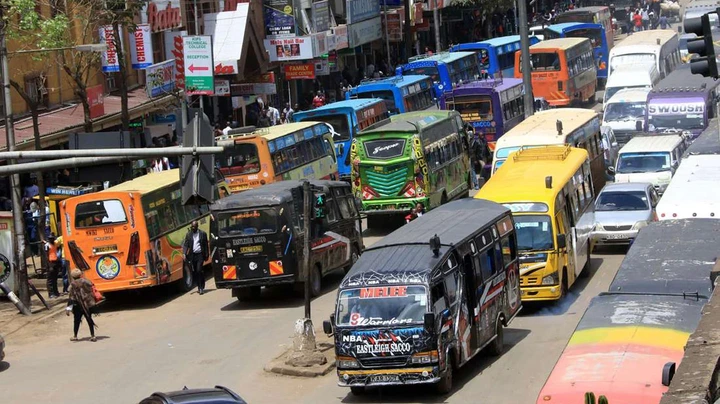 He noted that for a vehicle to enter the facility, it must be cleared and a monthly fee paid.
"You can't just open an Estate garbage collection company and think that one day you will wake up and take your waste to Dandora, your vehicle will be destroyed. A license operation fee must be paid and a receipt issued, this involves NEMA guys too," a source affirmed.
He added this still includes those "honey suckers" lorries that dump at Ruai Sewer which is owned by top officials including a former MP in Nairobi.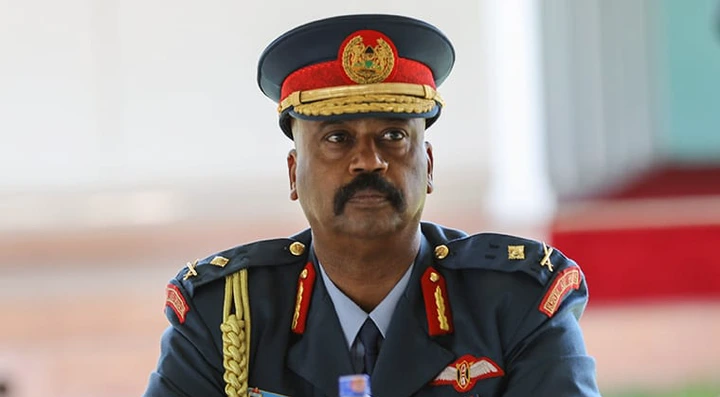 "As you approach Roysambu, you will find exhauster lorries parked along the road, I can attest to you that they belong to a former Nairobi MP," he concluded.
Do you have a story or Your Biography that you would like us to publish or would like to be featured on our website? Reach us via [email protected] or our contact page.
Would you like to get published on this Popular Blog? You can now email Admin any breaking news, your Bio, articles or advertise with us on:
[email protected]
What Do You Think About This Piece? One Favor Leave a Comments and Share Widely.