Before passing away in 1989, Mudavadi's Father, Moses Mudamba Mudavadi was the husband to Hannah Atianzale Mudavadi who passed away today on December 28th, and father to ANC party leader Musalia Mudavadi was quite a wealthy man.
His wealth at that time was quite immense that he attained the title of 'King of Mululu' in his village where people went to receive handouts whenever he was at home while serving as the Local Governments Minister in the Moi Cabinet.
The senior Mudavadi had been a close friend of the late President Moi with their friendship dating back to the early 1950s when he worked as a District Education Officer in Baringo while Moi in his late 20s working as a teacher there.
It's during the senior Mudavadi's era as the Baringo District Education Officer that Moi was chosen to join the LEGCO replacing Dr John ole Tameno with an assurance to still secure his teaching job should politics become tough for the 28 year old Moi.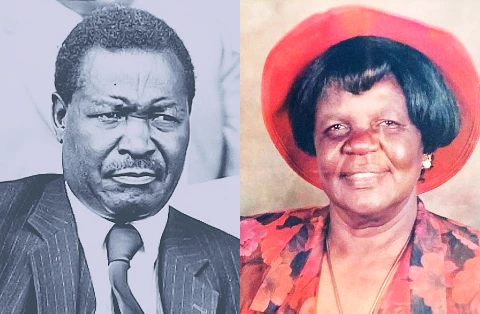 Fate seemed to be on Moi's side because he would later land a successful career in politics and Mudavadi Sr would end up marrying a Kalenjin girl named Rosebelia from Baringo to become Moi's 'in-law.'
A year after Daniel Moi becoming the President upon the passing away of Mzee Jomo Kenyatta in 1978, the senior Mudavadi was crowned the title of 'King of Mululu' owing to his powerful position and influence he had.
He would then become the Minister for Basic Education, Water, Culture and Social Service and later become a powerful Minister for Local Government and Physical Planning under President Moi serving until his death.
He also served as the KANU Secretary General and his Mululu home was like a mini State House where delegates from all over the country would be hosted with their petitions being collected for him to take to President Moi.
It's because of their friendship and his job that Moi enriched Mudavadi Sr to the point of making him the richest man in Sabatia before passing away at the age of 66 in the ICU at Nairobi Hospital.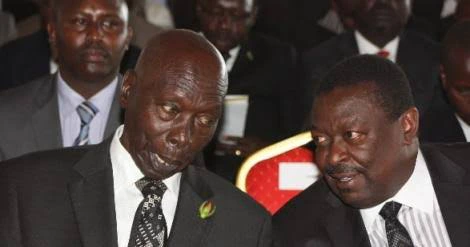 As a sign of respect for how Mudavadi Senior's influence saw him rise from sniffing chalk dust in Baringo classrooms to occupying the State House, Moi appointed the 29-year-old Mudavadi Jr into the cabinet upon the passing away of his father in that year of 1989.