Moses Kuria has come out to criticize China for how they have treated Kenyans and Africans accusing them of spreading COVID-19.
According to a report by citizen Tv, Kenyans and Africans in China had been left homeless after they were kicked out of their residential area by the Chinese.
"It is only fair that all Chinese nationals leave the country with immediate effect. How do you blame Africans for a virus you manufactured in a Wuhan laboratory? Go back home. Ata 'madeni hatutalipa'." Kuria penned.
Kenya on Thursday recorded five more cases of the COVID-19 disease, raising its total number to 184.
Mr Kagwe further said three of the five new patients are male while two are female.
In terms of the age distribution of all the 184 cases, he said three were below 15 years old, 49 in the age 15-29 group, 119 in the age 30-59 group and 13 above age 60.
Kagwe revealed that out of 2,050 persons admitted in quarantine facilities, 880 have been discharged.
Regarding the mandatory quarantine centers, Kagwe said the government have managed to close down a number of quarantine facilities
Kenyans trying To Unmask Moses Kuria
Moses Kuria is a Kenyan politician and Gatundu South Member of Parliament. The MP is always sorrounded by controversies that range from hate speech, assault, among others.
He is currently allied with DP Ruto and have been refereed to as "Tangatanga'" a name that was given to them due to doing premature campaigns in the different parts of the country.
DP Ruto and Moses Kuria have been accused of going silent and missing in action during the fight to curb the spread of COVID-19 yet there were so vocal on contradicting leaders who led BBI from upfront.
"Moses Kuria has turned to be DP Ruto's Spokes person and executor of his dirty politics. Right now we are dealing with COVID-19 and they are nowhere to be found" Kirui Kipchichir tweeted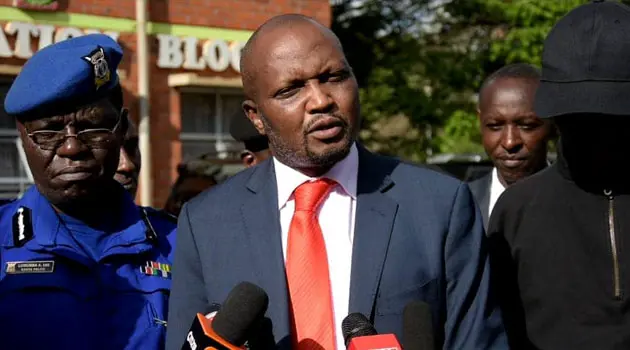 The MP was also accused of corruption allegations:
Gallant: Hon Moses Kuria in the past few months, you been nubbed with several corruption cases. First you irregularly awarded yourself and your siblings all the tenders. @EACCKenya please let us know where the investigations stand.
Moses Kuria was accused of assaulting Kiambu based political activist Wagichungumwa at Royal media station.
The MP has always been found on the wrong hand of the law with his inciting utterances that have on several occasions landed him in the hands of DCI.
This are some of the remarks by Kenyans who seem to be unmasking Moses Kuria:
Kitsuru Oligarch: Moses Kuria can go far but his dirty mouth cannot allow, Pray for him
Murimi Muriithi: Kuria is a criminal masked with an MP coat
Kihuri.Wa.Ndorongo: Apparently Moses Kuria is busy sharing his rants on social media. Tangatanga will say reggae stopped yet there are the ones seemingly in distress from being stopped from daily political rallies"
John Kibichoi: As we sanitize our hands, Moses Kuria should sanitize his mouth, it's far more worse than COVID-19