Kenya Civil Aviation Authority (KCAA) has moved to court yet again and this time around they want deputy president William Ruto's Weston Hotel demolished and its land repossessed.
The authority has rejected the earlier ruling by the court that Weston hotel compensates it in terms of payment at the current market value of that land. In their fresh suit, they do not want money but want their land back meaning Dp Ruto will have to demolish his hotel if the court rules in favor of KCAA.
This is the second time the KCAA is taking on Weston hotel. During the first suit, it was successfully established by the National Lands commission that the land actually belongs to the Kenya Civil Aviation Authority.
The National Lands Commission also declared that Deputy President William Ruto acquired that piece of land through legal means. That piece of land was first sold to private entities back in the 90s. 
Having established that the land belonged to KCAA and that Ruto was an innocent buyer who bought it through legal means, the court ruled that Weston hotel compensates the KCAA with the current market value of that land then keeps it.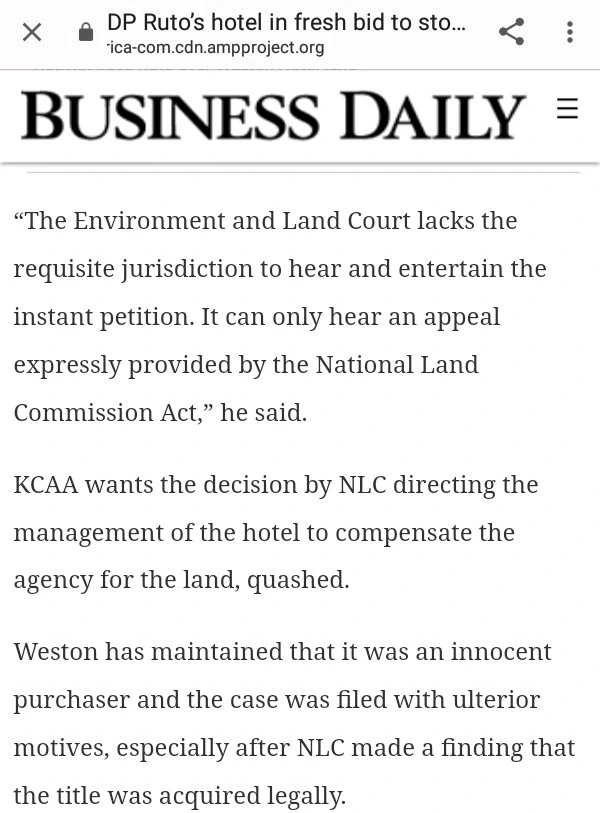 Deputy president William Ruto is usually represented by senior counsel Ahmednasir Abdullahi in this case. The Grand Mullah has dismissed the fresh petition noting that the matter had been heard and determined longtime ago. He wants the Kenya Civil Aviation Authority to drop the fresh suit and take the payments previously ruled by the court.
He also stated that the Environment and Lands court lacks the requisite provision to hear new petition and can therefore only hear express appeals from the lands commission. The Lands commission on the other hand is in a tight spot since it already established that the land in question was bought legally.
Land cases keep haunting deputy president William Ruto. The recent being the 1600-acre Ruai land that was recently repossessed by the government. Since DP Ruto is no longer active in government, he needs to tread carefully lest the government repossesses his Weston hotel like it did to the Ruai land. The1600-acre Ruai land belonged to the Nairobi sewerage company before it was grabbed. It has since been repossessed.