Moi University has announced the resumption of learning in its campuses. In a tweet on Saturday, the public higher learning institution said that learning was set to resume in September this year months after closing due to government restrictions regarding the Covid-19 pandemic. There will, however, be no in-person instruction so as to avoid the risk of transmission.
Learning will, according to official communication, be done online. Students are required to register for the courses online. There was no explanation why students would not be allowed in the campuses but speculation is rife that the virtual learning is predicated on the prevailing Covid-19 situation.
"NOTICE ON REPORTING OF FIRST YEARS (2020/2021 cohort)

This is to inform ALL incoming first-year students that Registration and Orientation will be done through the VIRTUAL platform as indicates. Please take note of the dates, " the tweet by the university on Saturday read.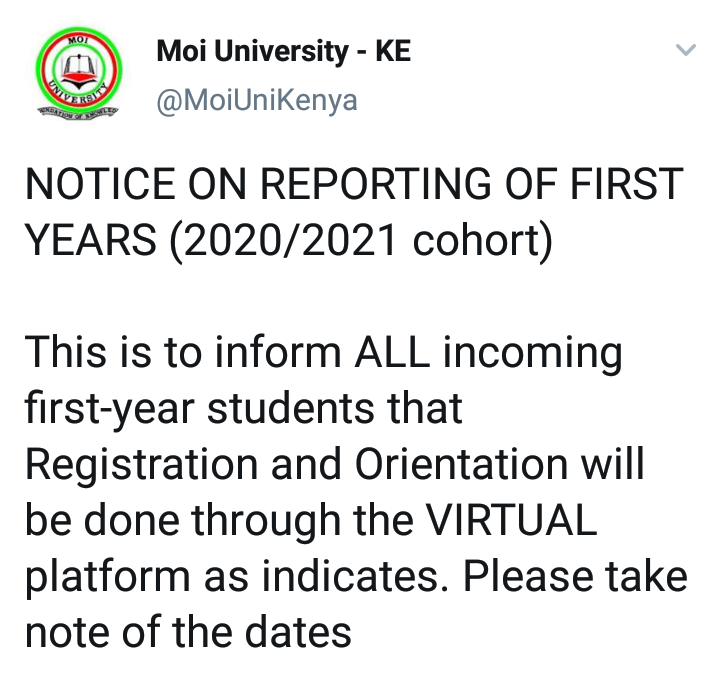 The development comes as the Ministry of Education Cabinet Secretary Professor George Magoha continues to your the country to assess the preparedness of learning institutions to reopen. He said that only those who will demonstrate that they are ready will be allowed to reopen, saying that the safety of learners remains a priority.
A cloud of uncertainty still hangs on when primary and secondary schools will reopen. Professor Magoha had said that the school calendar had been pushed to 2021 but appeared to change his positions by asking parents to be ready should the schools reopen in September.