Nyali member of parliament Mohammad Ali has now questioned the integrity of President Uhuru Kenyatta's most trusted cabinet secretaries.
The vocal legislator wondered why Transport cabinet secretary James Macharia was untouchable despite being named in most of the corruption cases under his current and previous Ministries he has held.
Taking to his twitter, the legislator named the CS in yet another road Scandal and wondered on whose power he remained untouchable.
"Elite of the can't-ry. Another scandal, Contract No RWC 568 Mbita-Sindo-Kiabuya-Sori Road. I fought him in Parliament only to be called names. @EACCKenya is this guy untouchable?,"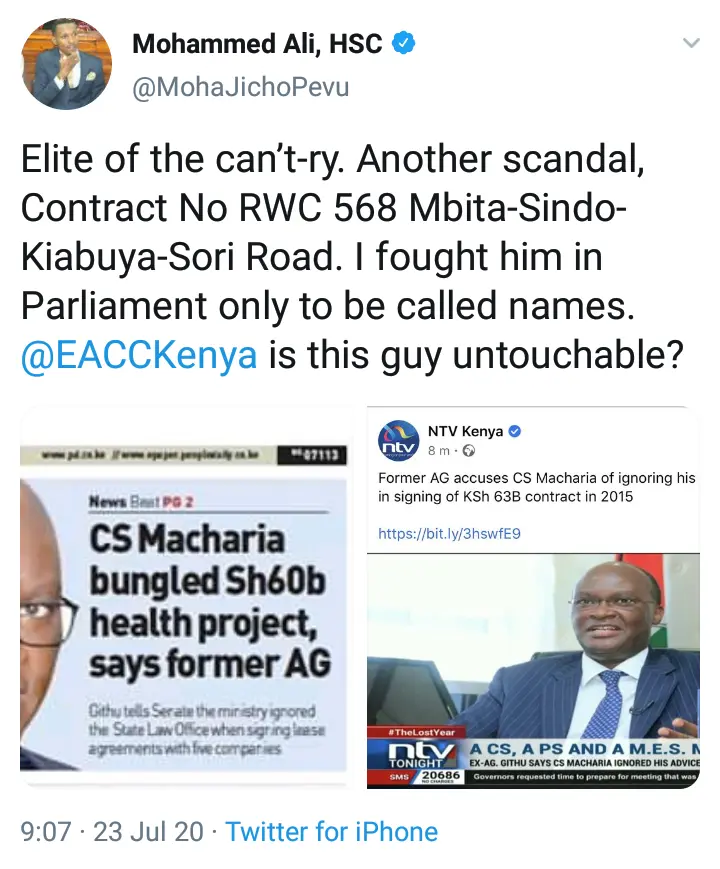 Mohammed Ali in June initiated an impeachment motion against the cabinet secretary over his directive to move cargo destined to foreign countries via the standard gauge railway to Naivasha for clearance.
'Jicho Pevu' as he is fondly known said that the decision was done without public participation which is against the constitution article 10.
"To admit a proposed motion that is not supported by any evidence of how the CS has grossly violated the constitution by failing to conduct public participation in implementing policy decisions… would amount to adjoin the House to go on a wild goose chase,"
"It is my determination that the proposed motion by the Member of Parliament for Nyali is not admissible," said Muturi the Speaker of the National Assembly in dismissing the motion.
The move by the former Attorney general Githu Muigai to accused Macharia while in the ministry of health seems to have informed the decision of the legislator to termed him untouchable.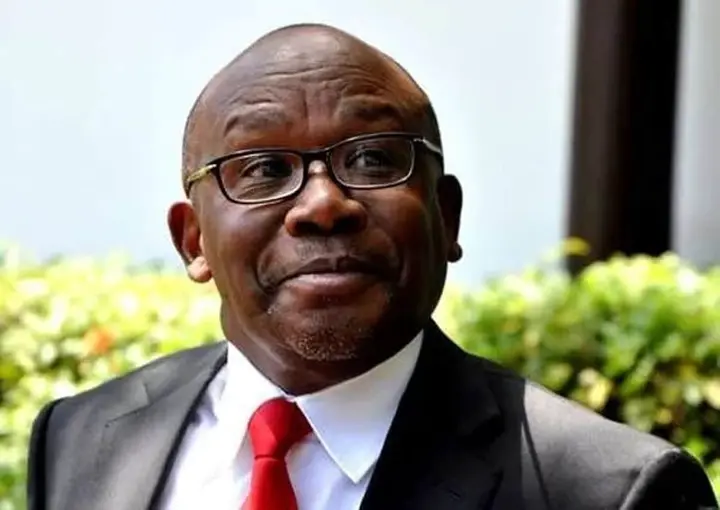 According to the former AG, the CS ignored his legal advice leading to the signing of the Ksh65 Billion contract in 2015 which has proved a burden to the majority of the counties in clearing the debts.
Are things happening to you that you can't explain? Well maybe someone put a hex on you? Do you feel you are stuck in the wilderness in a situation that appears hopeless? Do you have many enemies some enemies you are not even aware of? Are you having many obstacles in your life? Is your love life falling apart? Is your life facing financial ruin? Call Doctor Mugwenu on +25474063724 website www.mugwenudoctors.com