Lilian Ng'ang'a Mutua is known to be a Kenyan philanthropist and a former first lady of Machakos County.    
However, the first lady Ms. Lilian Ng'ang'a Mutua has stepped down from her position as she has announced to be separated from Alfred Mutua.
Lilian Ng'ang'a Age
Lilian Ng'ang'a was born on 22nd June 1985 in Kiambu County and she is a 36-year old in 2021.
Lilian Ng'ang'a Education
In an earlier interview with Eve woman, she revealed that she grew up in the village and would often attend school barefoot.
She performed well in primary school and got the opportunity to join Thogotho Girls High School, Kiambu.
After high school, she joined the University of Nairobi for a course in the front office, tourism, and hospitality.
Later, she graduated from Jomo Kenyatta University of Science and Technology (JKUAT) with a Master of Science in Project Management. 
Lilian Ng'ang'a Career
The 36-year-old was fortunate enough to get a job at the Safari Park Hotel, one of the oldest and biggest hotels in the country.
After one year with Safari Park, she left and joined Kenya Airways. She worked at Kenya Airways for another six years.
Having the looks coupled with confidence-key ingredients if you are to succeed on the runway, she ventured into the world of modeling. She also started a beauty parlor around the same time.
However, the modeling industry proved so challenging for her and she gave up a few months later and also closed down the beauty parlor.
The determined lady then decided to venture into the tour business and started her tour company.
This venture proved very successful and she owns the company to date, something she says is probably due to the course she undertook at the university.
Lilian Ng'ang'a Marriage Life
Lilian met governor Alfred Mutua in 2011 and the two began a friendship. The friendship blossomed into love and the two tied the knot.
They are never shy of showering each other with affection publicly. The couple sources say have a daughter together but others say the little girl is Lilian's sister's child.
Lilian Ng'ang'a Breaks Up With Alfred Mutua
The relationship between Alfred Mutua and Lilian came to a halt bringing an end to what many considered a fairytale union. The former Machakos First lady took to social media to share the news of the breakup.
"The only constant in life is changing and we must be present and aware to appreciate and embrace it. Winds of change blew my way and two months ago, I decided to end the long-term relationship with Dr. Alfred Mutua. We had a good run and I am forever grateful to God he brought us together. We remain friends," Lilian Nganga statement read in part.
Matua confirmed the separation that took place eight weeks ago adding they still remain friends despite their marriage coming to an end.
"She will be a close advisor as I Govern Machakos County and run for President because I trust her sharp insight and heart. She has always been my number one fan, Lillian has been an excellent First Lady and even though she will do some projects under the Lillian Nganga foundation, we have agreed she can continue with her county projects," Mutua added.
More Unknown Facts About Dr. Alfred Mutua EX-Wife Lilian Ng'ang'a
In an interview with The Standard's 'Eve Woman' Lilian stated that having been raised in a rural setting, she used to go to school on foot during her primary education where she performed well to earn a position at Loreto Kiambu Girls High school.
She then joined the University of Nairobi where she undertook a course in the front office, tourism, and hospitality which landed her a job at the Safari Park Hotel.
She left her hotel work after a year and was employed by Kenya Airways where she then worked for the next six years of her life.
At one point in her life, she tried modeling and that did not go so well as she gave up on it after just a few months just like the beauty parlor that she had opened.
She then started a tour company that she owns to date and attributes its success to the fact that it was what she studied and also her love for the subject.
Lilian revealed that she met her husband, Governor Mutua, in March 2011, and they became close friends. Their friendship developed and the two fell in love and eventually married. 
On June 21, she graduated from The Jomo Kenyatta University of Agriculture and Technology with a Master of Science degree in Project Management.
The County First Ladies Association (CFLA), lists several activities that Lilian has spearheaded since Governor Mutua's first tenure in 2013.
Among them is a cancer awareness campaign where thousands of Machakos residents have been screened over the years. The screening continues to be offered, for free, in more than half of our health centers all year round.
Her efforts were recognized when she was awarded the 2015/2016 Cancer Champion Award by HELD Sisters Foundation and was also voted Cancer Ambassador of the Year 2017 by Eddah's Hope Cancer Foundation.
She also runs a Children's Welfare Program that has over the years seen all registered homes receive adequate food supplies,  payment of school fees for over 250 kids, donations of 800 beds, 1327 mattresses, and 1200 pairs of bedsheets.
For the sake of the girl child in her county, Lilian registered "The Lillian Ng'ang'a Foundation" in 2016 and by 2017 had donated 3,684 sanitary towels and 3,254 innerwear to school-going girls in the County.
Lilian Ng'ang'a Networth
Her net worth is estimated at Ksh. 50 million. She runs Lilian Nganga Foundation and she owns shares in Alfred and Lilian Hotel abbreviated as A&L Hotels in Machakos County.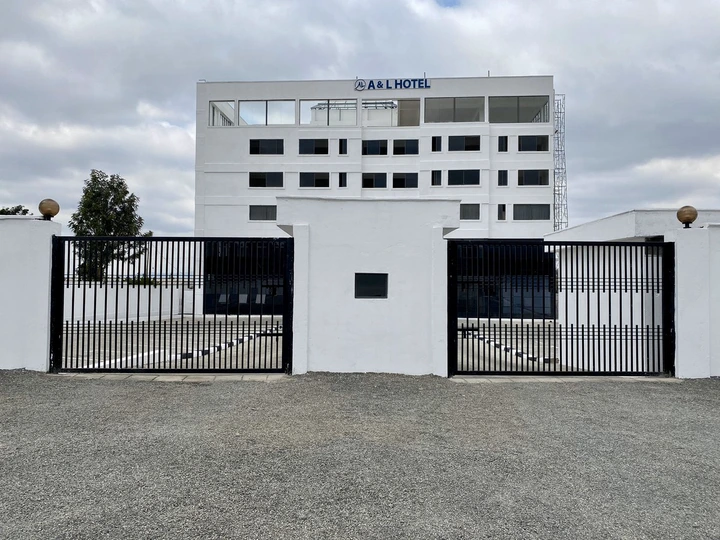 Lilian Ng'ang'a and Juliani
All the way to the open and waiting arms of popular Kenyan hip hop star Julius Owino commonly known as "Juliani".
The latest word on the street is the two have been hanging out together ever since Lilian's husband was involved in a highly publicized infidelity scandal in February 2021.
Perhaps confirming this, suggestive photos of Juliani and Lilian circulated on social media for the better part of Sunday.
In the most outstanding of them, the light-skinned beauty, dressed in an all-red dress is seen standing next to the rapper who is clearly smitten with delight.
Interestingly, the picture was posted by none other than Lilian herself when she returned from a social media hiatus that was influenced by Mutua's infidelity allegations six months ago.
On top of that, the two are said to have been spotted getting cozy at the New Rain Hotel along Kenyatta Road, Nairobi a few weeks ago.
This was disclosed by an avid follower of blogger Edgar Obare.
Lilian Ng'ang'a Mutua Contact
Lilian Nganga Mutua can be found on Instagram under her username @ngangalillian
What Do You Think About This Piece? One Favor Leave a Comments and Share Widely.