KPLC has made an announcement indicating the areas that are expected to face Electricity Blackout tomorrow. Kenya Power has issued the outage notice through their official social media accounts. 
KPLC usually does network maintenance hence leading to a huge power outage. The outage usually runs from morning hours to the evening and hence resulting in losses for business operators.
The Kenya Power and Lighting Company also does electricity connections to the customers who have not yet received electricity. Kenya Power has also been doing repairing power supply lines that have been damaged or sabotaged.
A good example is when power transformers are sabotaged. This results in huge outages which affect the residents of a given area.
Notably, Kenya Power and Lighting Company is a public limited company that works hand in hand with the Kenya Electricity Generating Company commonly known as KenGen.
KenGen is also a public corporation that owns all the power-generating assets in the country. The company owns major Hydroelectric power plants, Geothermal power plants as well as wind energy generating power plants.
Power supply outages are usually major disadvantages to the customers. For instance to those who own big factories that need a lot of electricity to run machinery. Institutions like hospitals, schools, banks and many others are affected by the blackout.
The Kenya Power has been aiming at the economic as well as technological development in the country. This can be well explained by the proposed set up of centers for charging electric cars as the country aim at adopting of electric cars in the country. This however will be determined by the pace at which this technology will develop in our country.
The Kenya Power outage will tomorrow affect a number of areas as listed by the Kenya Power in the shared list below.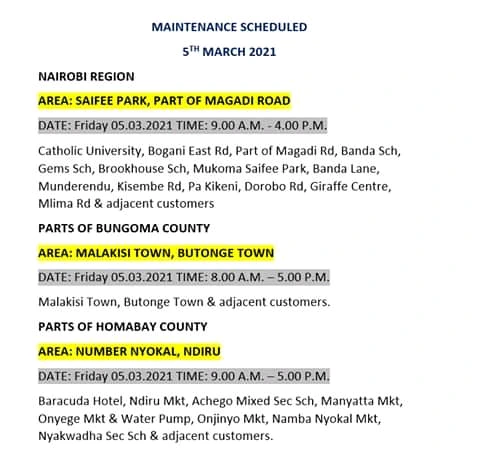 What Do You Think About This Piece? One Favor Leave a Comments and Share Widely.