As the 2020 national examinations candidates and continue to prepare to take their exams, the Kenya National Examinations Council, KNEC has issued guidelines to schools on the handling of the KCPE and KCSE examinations.
In a circular dated 7th January 2021, KNEC advised the schools and the sub-counties whose institutions had been closed down or affected by the Covid-19 pandemic as well as other factors.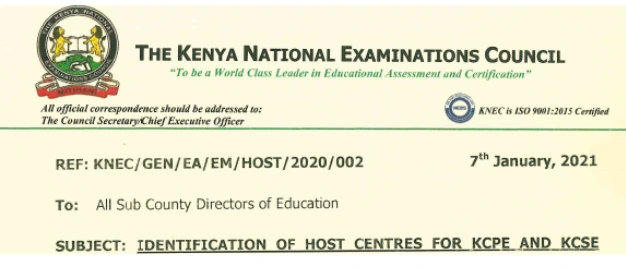 The circular stated that the candidates from such schools will be hosted in other schools within the sub-counties.
The circular is as indicated below.
The KNEC boss also advised that all candidates who are expected to sit for theory and practical examinations will have to take them from one center.
"The council wishes to inform you that such schools should be hosted in a public school institution identified within the sub-county". Commented Dr. Nancy Karogo.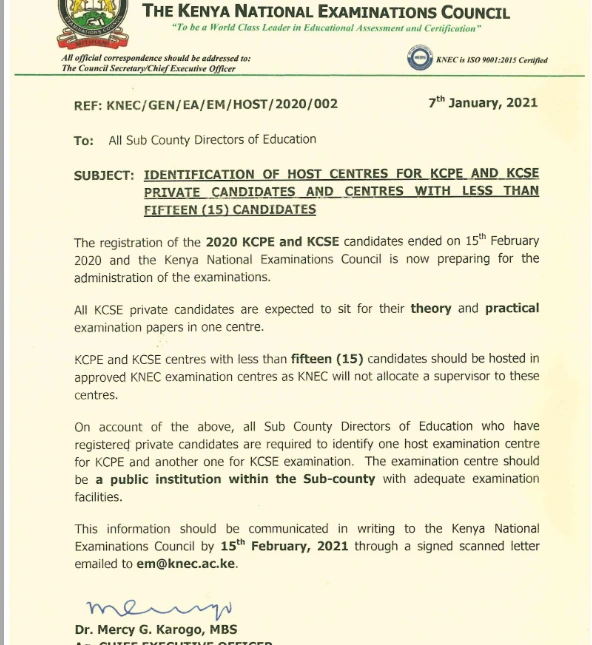 The 2020 examinations were postponed due to the effect of the Covid-19 pandemic, which saw all schools closed down in March 2020. However, the schools have already reopened and the national examinations will be done in March and April 2021.
What Do You Think About This Piece? One Favor Leave a Comments and Share Widely.