Meet Kitili Maluki Mwendwa, Who Was Kenya's First Chief Justice At The Age Of 39 Years Old.
Chief Justice Kitili Mwendwa, the third Chief Justice in independent Kenya, was appointed to assume office at the age of 39. Mwendwa, is the first black African of Kenyan origin, to hold the office of the CJ Kitili Mwendwa.
He obtained a Bachelor of Laws degree from Exeter University and a Masters degree in law from Oxford University. Justice Mwendwa was admitted to the Bar in England and was a barrister of Lincoln's Inn.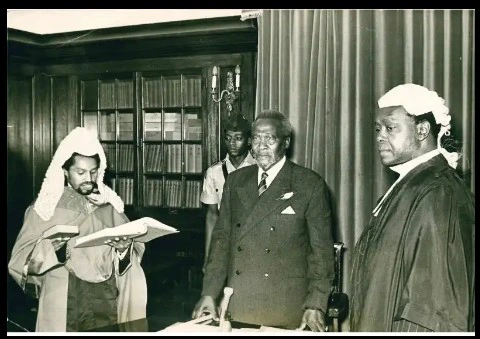 He joined the civil service in 1962 quickly rising to become Permanent Secretary in 1963 and Solicitor General in 1964.
Kitili Mwendwa became the Chief Justice of Kenya in July 1968 after the retirement of the then acting CJ Arthur Farrell.
Mwendwa resigned in 1971 following accusations that he was part of a military plot to overthrow the Government of President Jomo Kenyatta.
CJ Kitili Mwendwa later came back to public service as a Member of Parliament for Kitui Central after more than a decade in private business. Justice Mwendwa died in a road accident in September 1985.
What Do You Think About This Piece? One Favor Leave a Comments and Share Widely.