Coronavirus scare has seen many leaders come together as one in a bid to curb the spread of the novel virus. Most Kenyan leaders led by President Uhuru Kenyatta have even slashed their salaries to help raise money to be used in curbing the deadly virus.
Some big names in the country have however not contributed any amount of money to help in the fight against the pandemic and this has not been taken well by Kenyans.
Former presidential aspirant Prof. James Ole Kiyiapi is among Kenyans who have criticized Kenyans billionaires who have not offered any help in fighting against Coronavirus pandemic.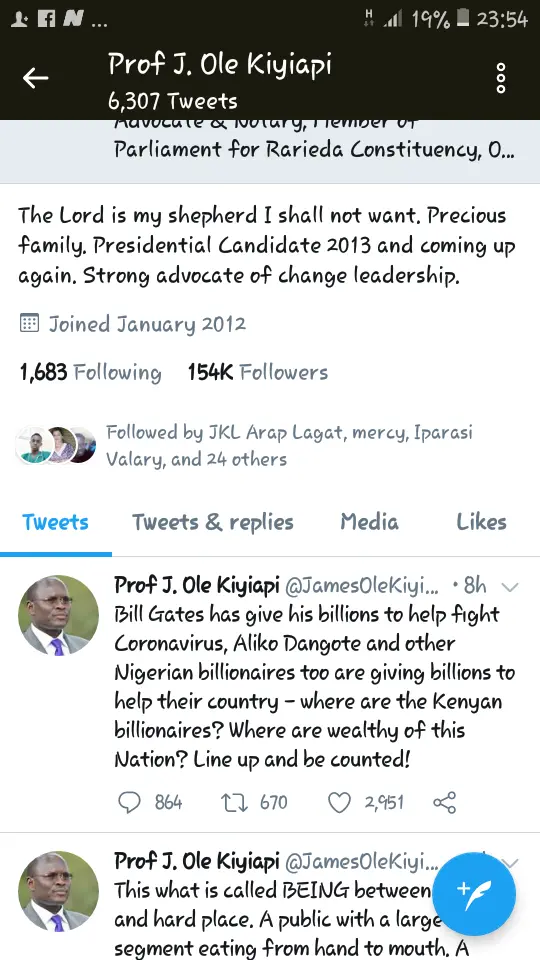 According to Kiyiapi Kenyan billionaires have not learned from their counterparts in other countries who have offered their money to help fight the disease.
"Bill Gates has given his billions to help fight Coronavirus, Aliko Dangote and other Nigerian billionaires too are giving billions to help their country – where are the Kenyan billionaires? Where are wealthy of this Nation? Line up and be counted!,"he noted.
Douglas Ebole while replying to Ole Kiyiapi revealed the reason why Kenyans billionaires have not yet donated any. According to Ebole, most Kenyan billionaires acquired their wealth through looting and fear to lose their wealth since they don't know how to make back the donated money.
"Most are looters who don't own any means of production/manufacturing. Are afraid to donate any MEANINGFUL amount of money since most don't have/own knowledge of production to make that money back. Simply most are primitive insecure holders of stolen public wealth," he replied.
Douglas Ebole is former Nairobi deputy gubernatorial aspirant in 2013.
Would you like to get published on this Popular Blog? You can now email Admin any breaking news, your Bio, articles or advertise with us on:
[email protected]
What Do You Think About This Piece? One Favor Leave a Comments and Share Widely.