Judy Chepsoi, the widow of the late Sergeant John Kipyegon Kenei, broke down in tears after viewing the body of her husband for the first time since he passed away.
On Friday, March 6, at Umash Funeral Home, Nakuru County, Chepsoi was joined by other family members as they received the body, which will be buried on Saturday, March 7.
A report by the Daily Nation, on Saturday, March 7, detailed that the widow lamented that her life had been shred apart and she would struggle to raise her child.
"What will I tell our children when they grow up? Who will help me raise them?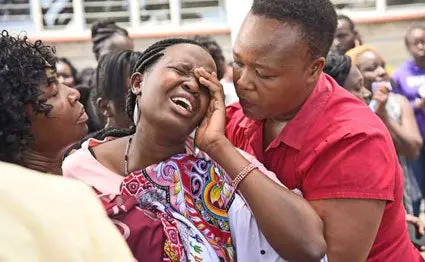 "It's hard for me to believe he is dead. But I leave it to God," Chepsoi wailed leaving vengeance to the Creator.
Chepsoi was helped away from her husband's coffin as the agony of losing a breadwinner swept her away.
Kenei's father, John Chesang, spoke to the media, asking DCI George Kinoti to speed up the investigations, urging him to release the data recovered from his son's deleted phone.
"We are finally at ease after the DCI revealed that my son was murdered. However, what we want to know are the contents of the data that was recovered from his phone.
"Let that be made public just like the CCTV footage from Deputy President William Ruto's office, which was aired," Chesang urged.
The body will be laid to rest even as the government continues to unravel the mystery surrounding his death after it emerged that his killers made every effort to cover their tracks.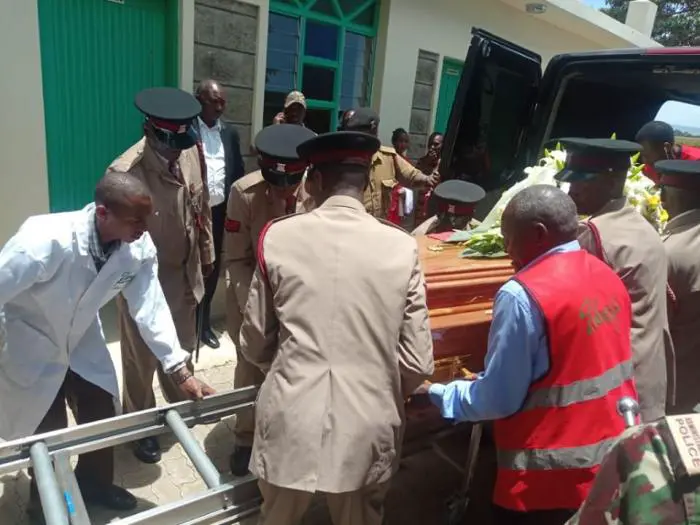 Ruto on Friday, March 6, spoke, a few hours after his office through Chief of Staff, Ken Osinde, issued a statement refuting details of the CCTV footage that was aired by Kinoti.
The DP stated that he had observed criminal cover-up in the murder case of Sergeant Kipyegon Kenei, who was attached to his office. He argued that the culprits were roaming free as Kenyans were being fed with half-baked truth.
"The truth must be found on why, how, and who killed Sgt Kenei. The family, my office and Kenyans want the truth and justice and culprits held to account.
"The drama, distortions, convenient half-truths and the smear campaigns in sponsored headlines amount to criminal cover-up," Ruto lamented while pushing DCI Kinoti to speed up the investigations.
What Do You Think About This Piece? One Favor Leave a Comments and Share Widely.