Former State Houses Secretary for Digital Communication Dennis Itumbi has condemned President Uhuru Kenyatta's government for revoking the appointment of Pauline Njoroge as a board member of the Tourism Regulatory Authority over her comments on Nairobi National Park.
Taking to his official Twitter account, Itumbi blamed the 'system' for abandoning Njoroge who has been one of the fiercest defender and loyalists of President Uhuru Kenyatta's government.
He indirectly hit out at President Uhuru suggesting that he should appoint Njoroge a CAS or Cabinet Secretary.
Itumbi further questioned the criteria used by CS Najib Balala to appoint members of the board.
"Dear System #paulinenjoroge has been one of your fiercest defenders and Loyalists. If CS Balala sees it fit to revoke her appointment based on a defense she put up for the system, then appoint her CAS or CS. Meanwhile, Ndugu Balala was there a competitive process?" Itumbi stated.

Itumbi's statement comes just a few moments after the Ministry of Tourism and Wildlife Cabinet Secretary Najib Balala released a Press statement revoking Pauline Njoroge's appointment as a board member of Tourism Regulatory Authority barely a day after she was appointed to the docket.
CS Balala cited Pauline Njoroge's earlier comments regarding the Nairobi National Park as the reason for her downfall replacing her with Standard Group journalist Najma Ismail.
He termed Pauline's comment on the park as 'useless'.
"I am revoking Pauline Njoroge's appointment as a board member because we have just seen what she had tweeted in the past that Nairobi National Park was useless,"
"We don't want to be associated with such people and such thinking," the CS said citing the integrity of the Nairobi National Park and the government's commitment to conserve it.
"The integrity of Nairobi National Park is very important and the government is committed to saving Nairobi National Park and any other protected area which is the habitat for our national heritage," CS Balala stated in a press statement.
The CS further thanked Kenyans on social media for exposing Pauline Njoroge's 'dark past' that his ministry had missed while doing a background check on her.
"We regret we did not know what she had said in the past. We want to take this opportunity to thank Kenyans on social media for highlighting what we had missed during our background check on her," the statement reads.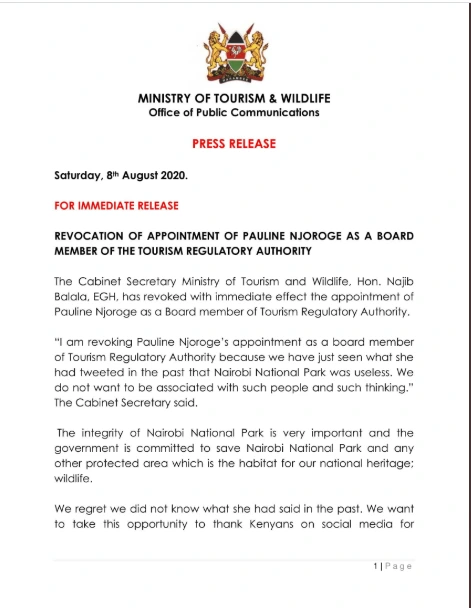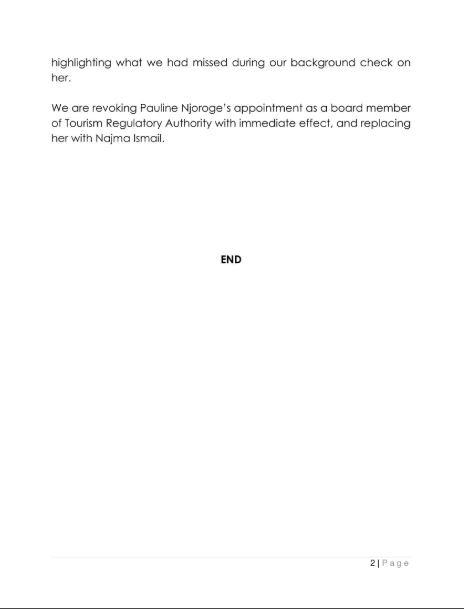 Pauline Njoroge was nominated to the board alongside Wiper leader Kalonzo Musyoka's son Kevin Muasya, Alais Lenana, and Isaac Njangu.
Are things happening to you that you can't explain? Well maybe someone put a hex on you? Do you feel you are stuck in the wilderness in a situation that appears hopeless? Do you have many enemies some enemies you are not even aware of? Are you having many obstacles in your life? Is your love life falling apart? Is your life facing financial ruin? Call Doctor Mugwenu on +25474063724 website www.mugwenudoctors.com