Kikuyu Member of Parliament Kimani Ichungwa has hit back at Orange Democratic Movement Raila Odinga for attacking the clergy for opposing the Building Bridges Initiative (BBI) report.
Speaking during the burial of Naivasha MP Jayne Kihara's mother in Nyeri County, on Friday, November 13, Ichungwa stated that President Uhuru Kenyatta and the ODM boss has no choice but to give in to the demands of the catholic bishops.
"The buck stops with President Uhuru Kenyatta, Raila can trash what the Catholic bishops are talking about because he knows nothing about the church but the President is a communique of the Catholic church. He has no choice but to listen to the Catholic bishops and the people of Kenya."
"The shared prosperity the President is speaking about, is the shared of prosperity where within BBI the people of Mt. Kenya will get their minimum guaranteed return for their coffee, tea and milk. If us politicians have created positions for the Prime Minister, cabinet ministers in BBI, we must also guarantee the youths that they will get jobs after they graduate from university," he said.
The Kenya Conference of Catholic Bishops (KCCB) on Thursday rejected the BBI report saying that it requires "serious panel beating" before it is subjected to a referendum.
The bishops opposed some proposed changes in the current constitution among them reintroduction of an imperial presidency, a bloated Parliament, compromising the independence of the Judiciary, imposing a police state and a "dangerous" proposal on the electoral commission.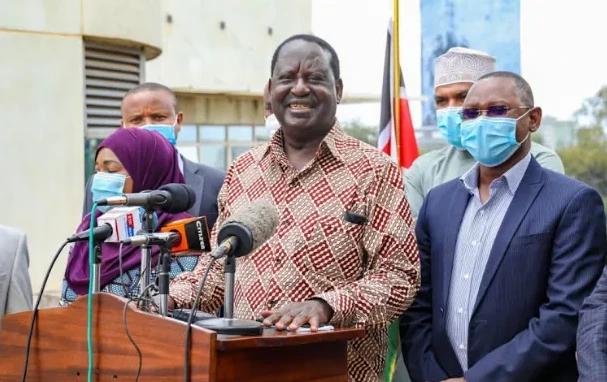 The Catholic bishops amplified the growing pressure to amend the report, which President Uhuru Kenyatta and Raila have rejected.
However, Raila while addressing the media outside his Capitol Hill offices faulted the bishops saying that they had two years to express their views to the BBI taskforce.
Raila trashed their call to open the document for review and amendment saying that the BBI will move on with the views of the majority.
"The clergy had an opportunity to express their views for two years, they are right to express their reservations, it is a democratic society but we will go with the views of the majority," Raila said.
What Do You Think About This Piece? One Favor Leave a Comments and Share Widely.