IEBC CEO Ezra Chiloba was born on 12th January 1979. He turned 41 years old this year. He was born and raised in Kwanza constituency Trans Nzoia county.
He attended Mutua Primary School where he obtained his Kenya Certificate of Primary Education (KCPE) in 1993. According to his teacher, Ezra Chiloba was a bright, obedient, and disciplined student which made him perform excellently at school.
Ezra Chiloba's hard work earned him a place at the St. Joseph Boys High School in Kitale. It's at this stage that the former CEO started experiencing challenges in his education.
At form two, he had to drop out due to the lack of school fees. By good luck, Florence Mutua, his aunt took over to save the situation. She enrolled him at Kwanza Boys High School.
During his short stint at the IEBC, he became a household name courtesy of his looks that earned him the 'Chilobae' nickname. His looks however did not save him from the storm that followed.
Ezra Chiloba was accused of being part of the bigger conspiracy to deny the opposition their legitimate win. This was not helped when the Supreme Court nullified the presidential results.
The main opposition coalition NASA went for the jugular demanding that the CEO should resign.
He refers to what transpired as a crisis: a crisis that not only rendered him jobless but also took away his peace of mind. "It took a crisis for me to see the opportunities in farming," he says. "I figured I would be busy and have a healthy mind on my journey to other opportunities".
His next course of action was to plan, research, and experiment with a few options. First, he collaborated with a friend to farm passion fruit on one acre. He also planted bananas, solo, on another acre.
After months of speculation, while still 'experimenting' with passion fruit and bananas, Ezra Chiloba made up his mind to go into growing maize to make silage.
In Trans Nzoia maize farming for human consumption is common though it does not offer much in profits. But maize for silage was a unique concept. It was an area that had not been explored fully in the county.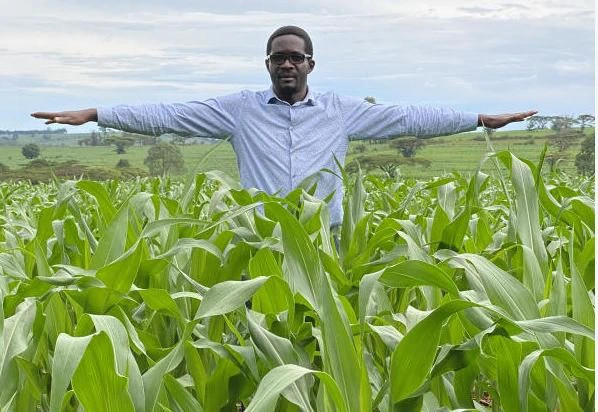 What Do You Think About This Piece? One Favor Leave a Comments and Share Widely.