Some of the Embu Private Hospitals owners speaking to the press at Izaak Walton Inn in Embu Town
Private Hospitals have threatened to sue the Embu government for allegedly Imposing costly fees on them even after paying other expensive levies to the national government.
The private hospitals owners said they are negotiating with the county to see whether it can stop charging them for single business permits since it's illegal and is a duplication of the charges they pay to the national government.
They said that if their negotiations do not bear fruits they will look for other methods including seeking legal redress since they are suffering much and bearing heavy burdens.
Speaking on behalf of the private hospitals Robert Njagi, Muriithi Gakeni and Eucebia Wawira, , and Antony Nderu argued that their services are under the cadre of services provided by professionals who pay their various fees and charges to various national governments' regulatory authorities.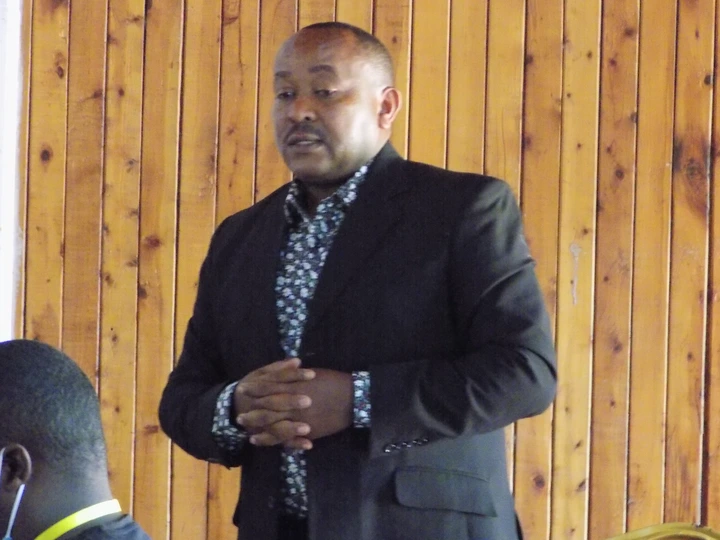 Embu County Secretary Jason Nyaga speaking to Private Hospitals owners at Izaak Walton Inn in Embu Town
They said annually they pay about sh30,000 for operating a nursing home, sh15,000 for a 15 beds hospital to Medical board, sh40,000 for a laboratory, sh10,000 for operating a pharmacy to the pharmacy and Dentists Licensing Board, and sh10,000 for an ex-ray, among others
The private hospitals proprietors expressed annoyance that even after paying the expensive charges the county government forces them to pay single business permits for their institutions and facilities, which move they said lead to double taxation, and heavy burden, and frustrations on them.
They spoke at Izaak Walton Inn when they met to launch a proposed Embu Private Health Facilities' Welfare Association to fight for their mutual rights.
What Do You Think About This Piece? One Favor Leave a Comments and Share Widely.