Deputy President William Ruto has come clean on allegations of his involvement in the controversial Ksh40 billion scam as alleged by Siaya Senator James Orengo on Saturday, February 16.
In a post on his social media pages on Sunday, February 15, the Deputy President dismissed the claims of his involvement in attempts to fleece a military equipment supply firm, Eco Advanced Technologies LLC, of Ksh40 billion.
The DP insisted that his office plays no role in procurement for any government department or ministry and thus found it strange that he was being dragged into such matters.
While DP Ruto did not deny that the representatives of the company had been to his offices, he pointed out that the time that they had spent there was way too short, and that they had also been to other offices that were more in touch with the tender that his office.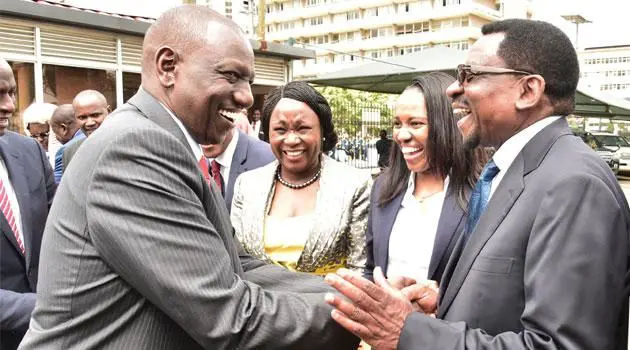 "The Office of the Deputy President does NOT procure for any ministry/department. A question; other than 23 minutes in Annex, for months, which government offices involved in the 'tender' did the scammers visit?
"Did they access the Department of Defence (DoD)? Who facilitated it? Who did they meet? Get the truth. Forget the sponsored nonsense in the media," the angry DP wrote.
DP Ruto's sentiments attracted diverse views from Kenyans, some of whom urged the DP to shed more light on the allegations instead of bashing the media and other individuals expressing interest in the case.
"The only way to tear up media 'propaganda' is shooting without a blink. Let's know which other offices he visited if you have the idea. Let us know also how Echesa accessed the ODP for 23 minutes, and are the offices open to civilians?" Kinyan Boy posed.
"Allow the investigators to interview Ken Osinde, Reuben Maiyo, Farouk Kibet and probably Dennis Itumbi," Emile Mounsier posted in relation to DP Ruto's aides.
"These questions could sound good if you were already in our courts of law in order to show these people that you are innocent. Can you sue them for defamation? It will be very interesting if you get out of being innocent. In fact, you will prove to the Kenyans that you are clean," Frank Mtetezi weighed in.
"Be silent and let the investigation take place. If you are clean you are clean [sic], the opposite is true. We won't allow people to tarnish your name without evidence and also we won't allow people to stop the investigating body from doing their job," Kiragu opined.
[email protected]
What Do You Think About This Piece? One Favor Leave a Comments and Share Widely.