Central Bank Governor Patrick Njoroge has come out to reveal that Safaricom did make an error when they announced waiver on transactions below Ksh 1000.
This was after a concerned Kenyan posed a question on Njoroge to explain why the waiver was only meant for personal accounts and not traders such as SMEs.
"So, the MPESA charges were only to be effected for ONLY personal accounts? The SMEs are not suffering in this season @njorogep @StateHouseKenya? This is ridiculous. As an SME you are be charged for every MPESA transaction to or from your account," the enraged Kenyan posted on Twitter.
He also went on to reveal that the burden from the waiver had been transferred to the SMEs who had embraced mobile payments while adding that it was hurting the small and medium traders massively.
"Was there any warning to the customers? No @njorogep? It was instant charges. So, in short, SMEs, will shoulder the cost of personal accounts being free. What is more, the only people taking a hit, are those WHO DARED to embrace mobile payments ie SMEs," he added.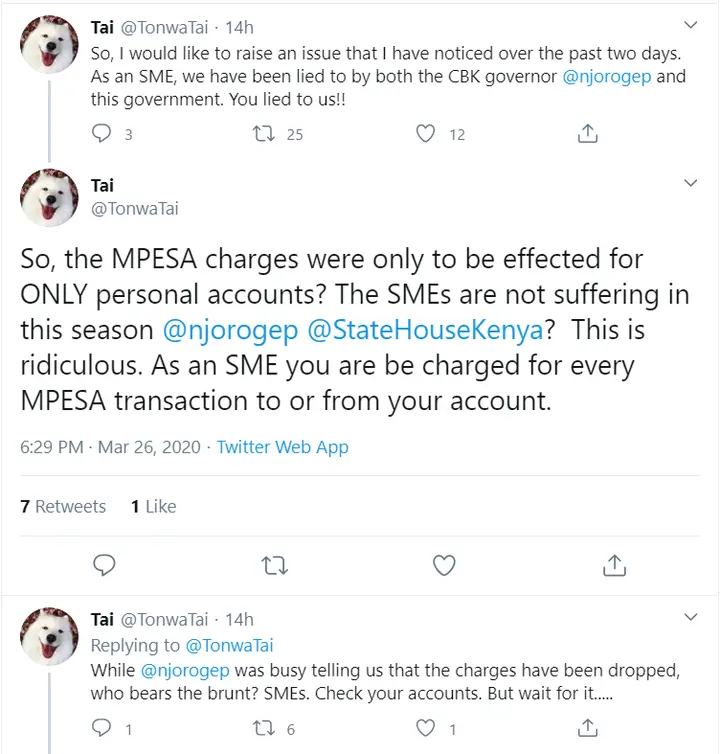 This caught the attention of the CBK governor who responded immediately indicating that the error to leave out on the waiver of transaction fees for the traders was made "accidentally" by Safaricom.
"The waiver of charges for transactions below 1K was inadvertently left out for merchants during implementation by @Safaricom_Care," Njoroge said.
He also added that the error would be rectified in due course and apologized to the disgruntled Twitter user.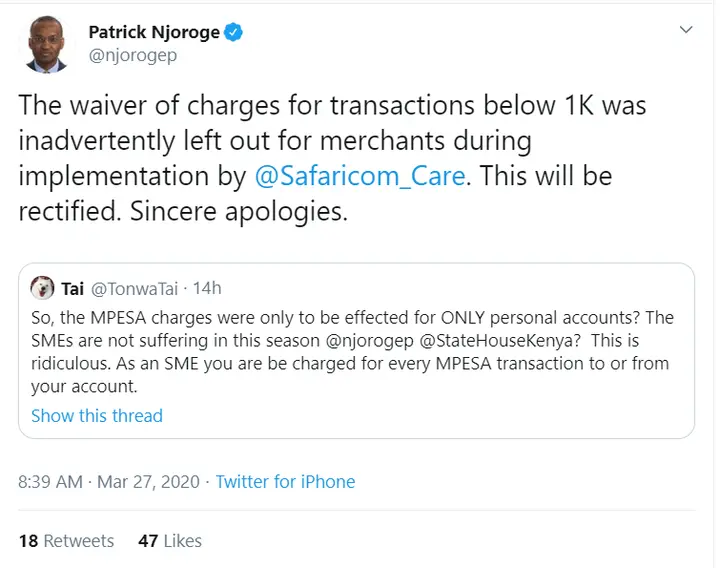 Other Kenyans came out to reveal their experiences with many stating that Safaricom was still charging personal to personal transfer despite an announcement that they had waived the charges below Ksh 1000.
"Safaricom should refund what they have already taken," said one Twitter user.
"But safaricom still charging some of us on person to person transfer," added another enraged Kenyan.
"Rectify soon possibly backdate it…" Mwangi added.
Would you like to get published on this Popular Blog? You can now email Admin any breaking news, your Bio, articles or advertise with us on:
[email protected]
What Do You Think About This Piece? One Favor Leave a Comments and Share Widely.