The controversial headline published by Daily Nation on April 6, 2020
Daily Nation came under fire from a section of Kenyans over its front-page headline published in the paper's Monday, April 6 edition.
'Lock us Up, Kenyans Say' read the controversial headline as the paper cited research that showed 68% of Kenyans are in support of the government enforcing a total lock-down across the country to curb the spread of COVID-19.
According to the research, only 32% of Kenyans are opposed to the idea of a total lock-down as one of the measures to combat the virus.
While the research delved deeper into the issues, including asserting that a majority of those supporting a lock-down were not prepared for it, the Daily Nation headline rubbed many Kenyans online the wrong way.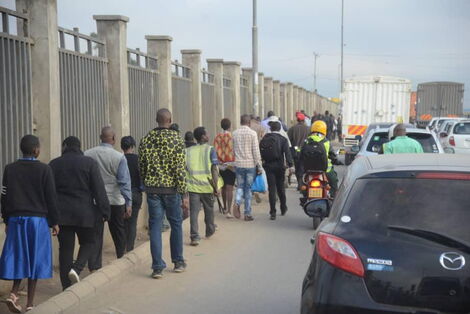 Kenyans walking in Nairobi on Monday, March 23, 2020
Kenyans.co.ke
The front-page was met by angry responses from Kenyans who vehemently disputed the assertion that Kenyans were overwhelmingly in support of a lock-down.
Many of those who expressed reservations on a lock-down noted the inability of many to provide for themselves and their families in such a situation, unless the state provided safety nets for households.
"Which Kenyans! Stop lying to people," wrote Genge music legend Jua Cali in response to Daily Nation.
"How on earth do you lock-down a country, in a place where less than 10% of the population have deep freezer and proper food storage?
"90% live from hand to mouth and you don't give them daily food supplements. 70% being harassed by landlords to pay rent dues in this hard times," wrote Mutahi Kariuki.
"Lock down those who are calling for it. This should be the last option after all is exhausted," stated Vicky Odipo.
Some of those who support a lock-down such as Nakuru Governor Lee Kinyanjui have argued that it is the most effective way to curb the spread of the virus, with the Governor recently controversially stating that the country would rather deal with the effects of hunger than deal with tens of thousands of Covid-19 cases.
Others also in support of the lock-down such as political Herman Manyora have called for the military to take charge, with the University of Nairobi (UoN) don arguing in past conversations that it was the only way to effectively enforce physical distancing directives.
"For example, the other day they directed 14-seater matatus to carry only 8 people. I am just from town, that is not happening. The city of Nairobi is dirty, it is filthy. Bars have been ordered to close at 7.30 p.m. from Monday. Do you honestly think they will adhere to that or will the police take bribes?
"We need the military to take charge of the response team so that we can have some discipline. Do you think the military will simply be taking bribes? No. They will ensure we stick to the measures put in place.
"The military should work hand in hand with the Health Cabinet Secretary Mutahi Kagwe's team to ensure Kenyans are kept safe," he stated on Sunday, 22 March.
Manyora, however, also noted the urgent need to create a special kitty to ensure households in Kenya were provided with food and other essential items, warning the privileged of an uprising if the most vulnerable in society were not taken care of.
"And those MPs should know, if we go into a lock-down and the poor whose lives have been disrupted and who have lost jobs have nothing to eat, there will be chaos in this country.
"They should know that if we do not organize ourselves, the poor will come even for those who have something small, and they will eat the rich," he told this writer on Tuesday, March 31.