Rumors have been circulating online that gospel singer Owen Mwatia popularly known as Daddy Owen has his once romance-filled marriage on the rocks.
Daddy Owen has been married to the love of his life, Farida Wambui Kamau but according to the reports going on social media, Farida is alleged to have left her matrimonial home the first two weeks of December and has been engaged to a rich man who is based in Gilgil.
Neither of the two has come out publicly to address the issue. Well, on Saturday, December 26th, Daddy Owen through his Instagram account posted this message to his fans.
"May the Lord protect you, have a good night.." – Daddy Owen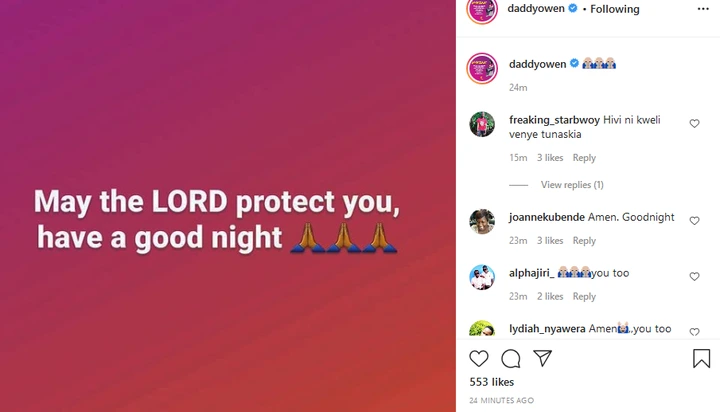 Followers flocked his comment sections questions of the viral rumors. Here's a number of the reactions;
martingene6517 Bro there is blog going viral about your marriage hope all is well.
blessed_kagwe Marriage is a scam hizi ujinga za ndoa ndio zilifanya music career yako ikashuka.
freaking_starbwoy Hivi ni kweli venye tunaskia.
joannekubende Amen. Goodnight.
eugenewanambisi Pole bro kwa matatizo ya ndoa.
blesskilundah We Love you Bro.
What Do You Think About This Piece? One Favor Leave a Comments and Share Widely.