Kenya's Ministry of Health Cabinet Secretary Mutahi Kagwe's efforts in helping the country fight the Coronavirus have finally been recognized internationally. The Wall Street Journal, a publication of global renown wrote about the cabinet secretary in glowing terms, praising his calm demeanor in updating Kenyans on the COVID-19 situation in the country.
Kenyans on social media shared the article on the global paper in which the former Nyeri senator is mentioned. Scores agreed that the cabinet secretary, who was nominated by President Uhuru Kenyatta for the position, was fit for the job. Here is a sample of what a section of Kenyans on social media had to say.
"This is one CS I can attest that is a good leader and manager at the same time…..most of the other CSs are just passengers….Such roles should also be undertaken by the so called God chosen *Deputy President*, " Paul Habwe Etole wrote.
A screenshot of some of the comments of Kenyans reacting to the Wall Street Journal gushing article on Mutahi Kagwe. [Source/SB Mukalo]
"One thing remains clear, CS Mutahi Kagwe is the best this in this Corona season in Kenya.
The guy offers hope, gives honest take on how things should be handles, throws real threats we expose ourselves to, is unshaken and has utmost confidence in himself and the country.
Indeed God saw this and called for a cabinet reshuffle, then brought in Mutahi Kagwe.
This guy is Good sent, " Abdullah Sane opined.
"His leadership skills have been exceptional ! He inspires confidence and an assurance that 'we got this'.
I shudder at the thought that C.S Sicily would have been in charge!
#GODspeedKenya!" Janet Jeruto gushed.
The Ministry of Health under the stewardship of the avuncular Mutahi Kagwe is the epicenter of the country's efforts to fight the Coronavirus in Kenya. It has been giving daily updates on the situation and announcing measures to contain the respiratory pathogen's spread. Already over 120 people have been infected with the country reporting 4 confirmed deaths. Kenya's first case was reported about 3 weeks ago. Among measures taken include the closure of all schools and a ban on all social, political and religious gatherings.
The virus was first reported in Wuhan city, the capital of the Huabei Province in China. Over 1 million people across the world have been infected. The World Health Organization (WHO) declared the outbreak a global pandemic after it spread to virtually every country in the world.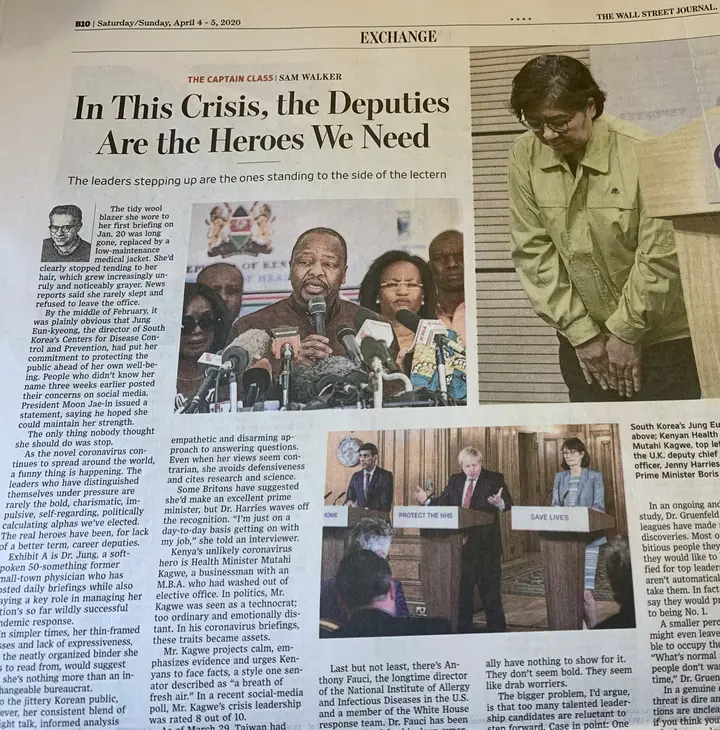 Would you like to get published on this Popular Blog? You can now email Admin any breaking news, your Bio, articles or advertise with us on:
[email protected]
What Do You Think About This Piece? One Favor Leave a Comments and Share Widely.