Chinese: The entire country is bent on seeing all relations between them and China severed because the news that's cutting across every other thing on the internet.
Reportedly, 100 Kenyans are stuck in China after they were evicted from their rental homes because of the color of their skins, allegedly.
One man of African descent currently living in China is telling that it's not what it seems and that online propagandas are throwing the situation out of proportion.
The man who identifies himself as Keigh Vour disclosed that most Africans are currently living without a visa which has since expired so that's why they are afraid of the authorities.
"Having stayed in China for a while, let me put it into perspective. I think there is a misconception there." he said, "Most of the people evicted are people who have no valid visa. These people have been staying illegally in China since their business/tourist visa expired(very common with Nigerians)."
"Most of them are either in business or teaching English illegally as they have no work visa. China introduced the Nucleic acid test for Corona and it is done for locals and foreigners alike."
"These people cannot go for tests because their passports will reveal their illegal status."
"They, therefore, cannot have the green safety status( This shows you have been tested and are corona free)."
"The landlords have been directed that if they house any person without the green status then they would be prosecuted and even their property taken over by the government."
"They have no option but to evict the tenants who are not compliant with the health check. That is the situation here."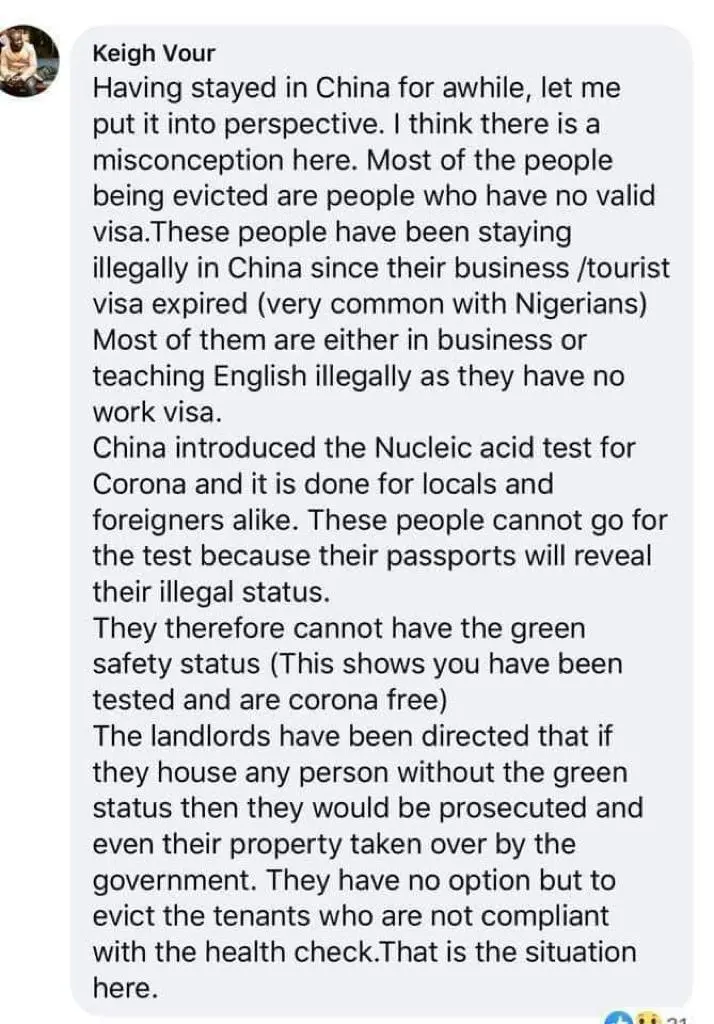 Chinese Ambassador in Kenya Reply:
China Central Television: As people are fighting the COVID-19 pandemic, some media say there has recently been discrimination against Africans in Guangdong. Can you comment on that?
Chinese MFA Spokesman Zhao Lijian: Since the COVID-19 outbreak, China and African countries have been supporting each other in fighting the pandemic. We won't forget the support voiced and provided by African countries and their people when we were at the most crucial stage of the fight. Now we are closely following the situation in Africa. The Chinese government and people are doing our best to help them. Faced with the severe test of epidemics, China and African countries are united more than ever, demonstrating brotherhood in times of adversity.
As for what you mentioned, we noted reports on that. I'd like to stress that we treat all foreign nationals equally in China. We reject differential treatment, and we have zero tolerance for discrimination.
Countries all over the world are taking measures to contain the pandemic. In China, our most urgent task is to prevent the spread of the coronavirus from both within and without of the country. To meet this goal, we need understanding, support and cooperation from both Chinese and foreign nationals in China.
In the meantime, we pay high attention to the incidents and misunderstanding occurred in this process. We urge relevant authorities to improve their way of work and hope all foreigners in China will strictly observe local anti-epidemic regulations, and cooperate with and support us in fighting the virus. Together we will achieve the final victory.
What Do You Think About This Piece? One Favor Leave a Comments and Share Widely.