Powerful Cabinet Minister: Recently, there has been an emergence of two words defining the current state of politics in the country, the System and Deep State.
These are said to be groups of extremely powerful individuals who run the shots including dictating how the political game will be played, and hold deep secrets on how the country is run.
This isn't the first time that such groups are existing. In every presidency since the country gained independence in 1963, there's a group of individuals better referred to as the president's inner circle who give advice and sometimes control how things will play out in the public.
During the reign of Kenya's first president Mzee Jomo Kenyatta, one such person who belonged the head of state's kitchen cabinet was Mbiyu Koinange.
Koinange was the Minister of State in the Office of the President and was probably the most powerful Cabinet Minister who held the deepest secrets of the nation.
However, as powerful as he was, there's one fascinating aspect about him; he never slept in the same room with his four wives.
In a book titled: Dark Secrets of the Kenyan Presidency by one Chris Kumekucha and an article by Daily Nation published in July 2013, the Cabinet Minister is said to have confided with a friend that he couldn't share a bed with any of his wives to avoid dreaming and exposing one of the government's secrets.
"What would happen if I dreamt in my sleep and started divulging Jomo's secrets? I certainly cannot live with such an eventuality, so I decided never to share a bedroom with anyone, my wives included," he is quoted to have divulged to a friend.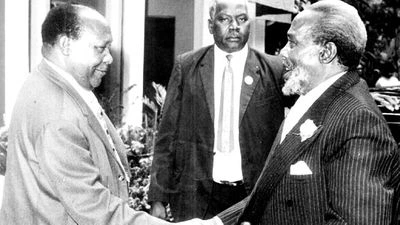 Mbiyu was so powerful Cabinet Minister and trusted that President Kenyatta would reveal some things only to him, and not even his wife Mama Ngina.
"I was told to mind my business because there were things Kenyatta talked about with Koinange that he couldn't share even with First Lady Mama Ngina," former Butere MP Martian Shikuku once said while speaking on Jomo's trust for Koinange.
The two were such good friends and were always spotted together either at State House or in Gatundu tearing goat meat, drinking soup and exchanging vernacular proverbs.
On the night Mzee Kenyatta died, the two are said to have spent the day together in Mombasa on official duties. Mbiyu later that evening left to attend to some business in Nairobi promising to return the following morning.
This was never to be as that night, Mzee Kenyatta took his last breathe.
What Do You Think About This Piece? One Favor Leave a Comments and Share Widely.