Joseph Abanja , the father to late Samantha Pendo says that his life was never the same again after the death of Pendo. He has been going through a lot with his wife and their two remaining children , 11-year-old daughter ad his two-year-old son.
He said that after Pendo's death he drowned himself into alcohol. He locked himself in the house for months. His life became even harder when his main source of income, a tuk-tuk, was taken away for the failure of paying for two months. He found solace in taking alcohol as now he did not have any job.
Many politicians visited him making pledges which are yet to be fulfilled. Governor Anyang' Nyongo promised him a job. The Kachok dumpsite was to be transformed into children's recreational park and named after baby Pendo. The women representative of Kisumu, Roza Buyu also visited them.
He said that after his tuk tuk was taken a way he went looking for employment as a driver but people said that he had got a job in the county government but it was never so.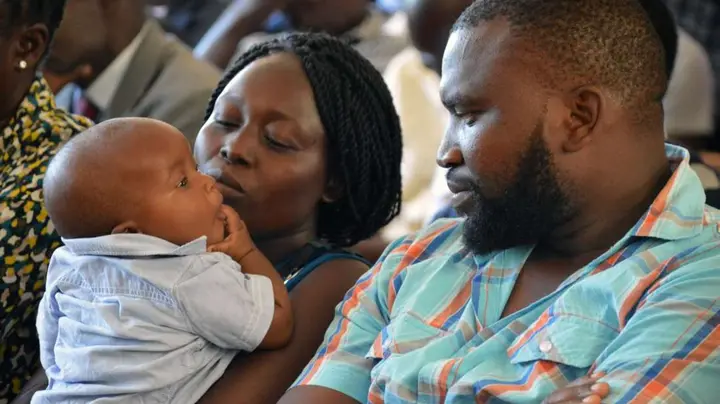 "I resorted to taking alcohol but it only postponed my problems.My turning point was when I came home drunk one day and my daughter asked me why I was taking alcohol.I stopped and started boda boda business." He explained. He said that he wished that Pendo never died as his life would be different now.
On August 11, 2017, a fine flower was plucked out of the safety of their house and violently nipped in the bud, by one of the baton-wielding policemen, who had laid siege to her parents' humble abode, in an area known as Kilo Junction, of Kisumu's Nyalenda low-income settlement.
Those were the words of Kisumu Resident Magistrate Beryl Omollo on February 14, 2019, as she canvassed arguments that would lay the ground for the prosecution of five senior police officers who were found responsible for the killing of a baby in the 2017 post-election violence in Kisumu.
This followed a public inquest into Baby Samantha Pendo's killing, where three senior police officers were found responsible, with a recommendation for them to face murder charges.
Today, August 11, Baby Pendo would have been three and a half-years-old.
But as her parents mark the third anniversary of her death, they are yet to get justice for their daughter who was bludgeoned to death by anti-riot police officers.
It remains a painful, unforgettable incident for Ms Lenser Achieng Sege and her husband, Mr Joseph Oloo Sege Abanja.
Three years down the line, the MEDIA  visited the house where it all happened.
The memory of that fateful day is still as fresh and devastating as when it happened, so much so that Ms. Sege chose not to speak about it, but allowed her husband Mr. Abanja to speak to us.
In between the interview, he breaks down as he recalls the incident and recounts what life for them was like thereafter.
"Nobody is willing to help me because they feel I am wealthy yet there is nothing I am getting out of it. I have been suffering ever since I lost Baby Pendo. I wish my daughter never died, my life could be different," said Mr Abanja.