As the country continues to mourn the departed younger Dr. Stephen Mogusu, who succumbed to COVID-19, his alleged last chats with fellow doctors have emerged.
The Kenya Medical Practitioners, Pharmacists and Dentists Union (KMPDU) on Monday confirmed the passing on of the 28 years old Tom Stephen Mogusu.
Dr Mogusu's chats on WhatsApp have emerged, showing how he warned doctors to take action if they valued their lives.
Dr. Stephen Mogusu's Last Words He explained how he was struggling to defeat the virus, and the expenses he was incurring for the treatment.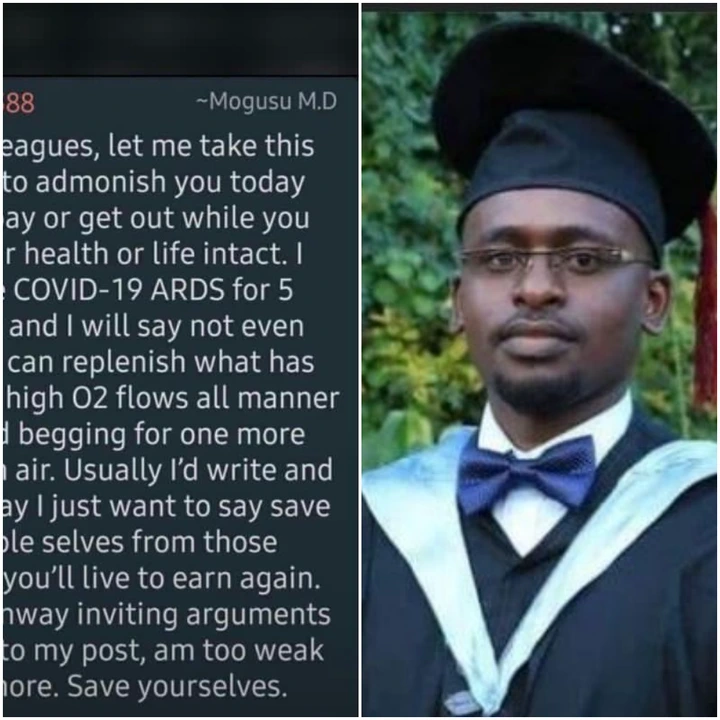 More so, he also talked about situations in hospitals and warned his colleagues to stay away from hospitals until their demands are met.
The alleged chats were shared on social media by blogger Cyprian Nyakundi who said the chats were taken from the doctor's WhatsApp group
"Dr. Stephen Mogusu's last words on the doctor's WhatsApp group, highlighting the dire situation in Kenyan hospitals. A reminder that Kenya received 300B from WorldBank to build hospitals and buy beds. That money was embezzled. Media only focusing on 7B Kemsa tenders," Nyakundi captioned the chat.
Below is his Doctor's last words to the group:
"My dear colleagues, let me take this opportunity to admonish you today to get your pay or get out while you can with your health or life intact.
"I have had the COVID-19 ARDS for 5 days tonight and I will say not even a full pocket can replenish what has been lost on high O2 flows all manner of masks and begging for one more gasp of fresh air.
"Usually I'd write and write but today I just want to say save your miserable selves from those institutions, you'll live to earn again. I am not in any way inviting arguments or response to my post, am too weak to type anymore. Save yourselves."
Would you like to get published on this Popular Blog? You can now email Admin any breaking news, your Bio, articles or advertise with us on:
[email protected]
What Do You Think About This Piece? One Favor Leave a Comments and Share Widely.